Berlin, 19.06.2008
Commitment to Tolerance in Europe Honoured:
Announcing the Tolerantia Award-Winners 2008

Within the frame of a ceremony in honour of the voluntary commitment of its helpers and supporters, the Berlin anti-violence project MANEO will officially announce this evening at 7:30 p.m. at Rathaus Schöneberg the award-winners of the Tolerantia Prize 2008.
 The prize has been awarded since 2006 by the Initiativgruppe Schwules Weimarer Dreieck to outstanding personalities from Germany, France and Poland, who have rendered great services to tolerance. Responsible for the prize, in addition to MANEO (Germany), are the anti-violence projects "SOS-Homophobie" (France), "Lambda" and "KPH" (Poland). The awarding ceremony is held annually and alternately in one of the three capital cities. After Berlin in 2006 and Paris in 2007, Warsaw will open its gates for the gala on 9/20/2008.
Tolerantia 2008 – the Award-Winners:
Germany:
Tanja Walther, Philipp Lahm and Dr. Theo Zwanziger will be jointly awarded for their special and outstanding commitment against intolerance and homophobia in popular sports, in this case football.
Tanja Walther, 38 years old, teacher and sports scientist. She was an active football player with Tennis Borussia Berlin (1992-1994) and with the national league club Turbine Potsdam (1995-1999). Today she is still a passionate football player in Berlin's state league.
Her years of exemplary commitment against homophobia in sports and in football will be honoured. She initiated the action evenings against homophobia in football. Since close to 10 years, she has been a member of the advisory board of the Berlin sports club "Seitenwechsel", and since 2006 delegate of the European Gay and Lesbian Sport Federation (EGLSF) in the European network "Football Against Racism in Europe (FARE)" conducted Europe-wide.
Philipp Lahm, 24 years old, football player with Bayern München and a member of Germany's national team. In December 2007, Philipp Lahm made a public statement on the topic of homosexuality and football: "I enjoy living in a liberal, open society" and "if a player is gay, he's still my team colleague and the way I treat him would in no way change."
Philipp Lahm is the first national football player who has unmistakably stood up in public for tolerance of homosexual football players. In face of homophobic structures in football, he has proven to be steadfast and shows solidarity towards homosexual football players. He therefore sets an excellent example in football.
Dr. Theo Zwanziger, 63 years old, German sports functionary, jurist and president of the German Football Association (DFB). He publicly declared that the DFB would support all male and female players if they outed themselves. He said it was the task of the DFB "to create framework conditions on a broad basis so that homosexual persons have access to and can move about in sports without feeling discriminated against."
Theo Zwanziger advocates the active support of educating trainers, referees and clubs on lesbians and gays. He repeatedly and clearly declared himself against the discrimination of homosexuals in sports and in football and stated that such behaviour must be punished, in football with the deduction of points.
France:
Bruno Solo, 44 years old, started his career as a journalist and anchorman at the TV station Canal+ in France. He later worked with the station TF1 before becoming an actor in 1993. He has meanwhile produced successful TV series such as "Caméra café" and "Kaamelott".
Without being affected himself or asked to do so, he has repeatedly defended the rights of gays, lesbians, bisexuals, and transgender and regularly condemned homophobia.
Poland: Marzanna Pogorzelska
Marzanna Pogorzelska, 44 years old, has worked as a teacher for 15 years and is responsible for an Amnesty International group at Grammar School 1 Kedzierzyn-Kozle (Opel region).
In May 2007 she wrote an open letter to Roman Giertych – the Minister of Education of the former right-wing Polish government – in which she publicly criticized the government's intolerant policies in regard to homosexuals. She publicly declared that she would continue to inform her pupils that sexual minorities exist, that she would fight for the equal rights of homosexuals in society, resist government policies, and not be dissuaded by the government from doing so. The Minister of Education, Giertych, later called this "homosexual propaganda". Marzanna Pogorzelska actively participated in the campaign "All Different – All Equal" initiated by the European Council. She has organized various events and actions on this topic.
Berlin, 10/08/2008
Tolerantia Award 2008
Awards Ceremony in the Düsseldorf LTU-Arena in Front of  20,000 Spectators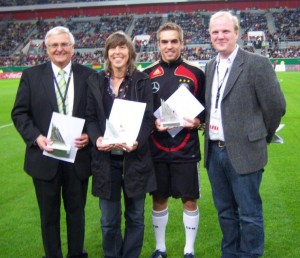 The awarding of this year's Tolerantia-Award to DFB President Dr. Theo Zwanziger, member of Germany's national soccer team Philipp Lahm and EGLSF representative Tanja Walter took place yesterday during the training of the national team in the Düsseldorf LTU-Arena. More than 20,000 spectators were present at the ceremony made possible by the DFB at short notice, during which MANEO Project Head Bastian Finke honoured the three award-winners for their exemplary commitment against homophobia in football.
The German-French-Polish prize has been awarded annually since 2006 by the Initiativ-gruppe Schwules Weimarer Dreieck to outstanding personalities from Germany, France and Poland standing up against homophobia and for tolerance.
MANEO Project Head Bastian Finke was pleased that the award-winners, who were not able to attend the prize gala in Warsaw on September 20, could now be personally awarded in person and in an adequate frame: "We need people who courageously pave the way and thus become models. You have all made a great effort. That is what I would like to thank you for on behalf of our partner organizations, especially my organisation, MANEO. I am pleased to be able to present you with the cordial greetings of The Governing Mayor of Berlin, Klaus Wowereit."
Homophobia and intolerance can be found in all areas of society, and therefore in sports as well. The commitment of the award-winners to furthering tolerance and acceptance in football therefore sends an important signal – to sports, but also to society as a whole.
In his greeting to the Warsaw Gala, award-winner Philipp Lahm said: "I was awarded 'because of the special and extraordinary commitment against intolerance and homophobia in popular sports and especially football.' I actually only did what I otherwise also try to do. I made my point of view clear in interviews, and when I was asked about homophobia in football, I expressed my opinion on this as well. For me, it is mainly about humans and their rights. Human rights and human dignity already stand at the top of our constitution. That, to me, is self-evident, for dignity has nothing to do with race, religion, gender, or sexual orientation. I enjoy living in an open, liberal society, in which living together in tolerance and without discriminating prejudice is possible. For my understanding of living together consists in treating others the way we would like to be treated ourselves."
Already prior to the World Cup 2008, MANEO had called for more tolerance in football in a widely noticed billboard campaign, and the current issue of the MANEO specialist magazine impuls also features this topic. The "Aktionsabende gegen Homophobie im Fußballsport", initiated, among others, by EGLSF representative Tanja Walther and supported by Dr. Theo Zwanziger, was equally welcomed by MANEO as a "correct and important signal".
Against this background, Finke was pleased that the Tolerantia awards ceremony arranged at short notice was also attended by representatives of gay-lesbian football fan clubs from Stuttgart, Cologne and Berlin, among others, by Andreas Stiene from "Andersrum Rut-Wiess", the Berliner Hertha-Junxx and Christian Deker, member of the board of the Stuttgart-Junxx, who travelled there specially for the awards ceremony. "We shall keep kicking the ball that we have brought into play," Finke said.
See also the official Website of the DFB: