For outstanding commitment
The European Tolerantia Awards 2018
The European TOLERANTIA AWARDS 2018 are presented as joint prizes by SOS homophobie (France), Lambda-Warszawa (Poland), The Rainbow Project (Northern Ireland), Pink Cross (Switzerland) and MANEO (Germany). Laureates of the Tolerantia Awards 2018 are: Christiane Taubira, former Minister of Justice (France), Johannes Kram, author, lyricist, blogger and marketing strategist (Germany), The Polish LGBT+ community (Poland), Bronagh Waugh, Actress (Northern Ireland), and Kathrin Bertschy, Green Liberal Party and member of the National Council (Switzerland).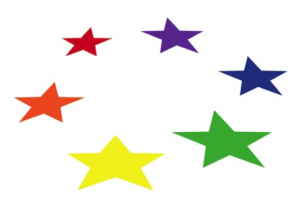 The Tolerantia Awards, which have been presented annually since 2006, honours the outstanding engagement of people, institutions and groups. Their commitment highlights democratic values such as equal rights, solidarity, social diversity and tolerance as well as action against homophobia, racism and all forms of group-focused enmity in their own countries, in Europe and beyond.

The awarding organisations are members of the European Alliance Against Homophobia (Berlin Alliance), which was founded by organisations from Germany, France and Poland in Berlin in 2005. The Rainbow Project from Northern Ireland joined the alliance in 2014 and Pink Cross from Switzerland became a member in 2016. The organisations work together to combat discrimination and prejudice-motivated violence, advise and support victims of homophobic and trans*phobic violence, and promote social enlightenment and basic democratic values in their own countries and in Europe. The basis of the alliance is the Tolerancja Declaration, which has been signed by all members.
France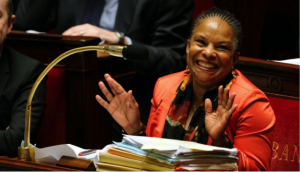 Christiane Taubira
Christiane Taubira, born in 1952 in Cayenne, French Guiana is a French politician. She began her political career as an independent activist, and then participated in the creation of the political party Walwari of Guiana. From 1993 to 2012 she served as a deputy of Guiana to the French National Assembly. She was the driving force behind the law recognizing the slave trade and slavery that was practised from the 15th century onwards against the African, Amerindian, Malgasy and Indian populations as constituting crimes against humanity. The law was adopted by the French parliament on May 21st, 2001 and is known as the "Taubira Law".
She gave up her mandate as a deputy of Guiana when in 2012 Francois Hollande was elected president and nominated her Minister of Justice. She supported a bill that would legalize same-sex marriage and adoption, which she qualified as a "réforme de civilisation". During the parliamentary debates she gained respect for her powerful speeches in which she pointed out the importance of a national and legal recognition of same-sex relationships and parenting. On the 23rd of April 2013 the National Assembly approved the bill and on the 17th of May, 2013, the International Day against Homophobia, Transphobia and Biphobia, the bill was adopted by President Hollande.
This year we are celebrating the 5th anniversary of the legalisation of same-sex marriage. SOS homophobie is bestowing the Tolerantia Award upon Christiane Taubira for her unrelenting commitment, which made the adoption of this law possible. This is a significant law, which gives complete recognition and equal rights to same-sex couples. During the parliamentary debates the opponents of the bill spread extremely homophobic propaganda against LGBT people and homoparental families throughout the entire country. (in 2012 and 2013 SOS homophobie registered a 78% increase in testimonies of hate-motivated incidents on our helpline). In the face of this violent anti-LGBT propaganda, Christiane Taubira valiantly defended her objective to obtain equal rights for same-sex couples, which the French LGBT movement had been pursuing for many years. In the National Assembly and during the public debates Christiane Taubira embodied the principles of equality for and respect towards all LGBT people during a period when many of them were being humiliated, insulted and accused because of their sexual orientation. The adoption of this law represents a significant step towards a national recognition of equal rights for LGBT people.
It is with this award that the volunteers of SOS Homophobie would like to recognise her great courage and commitment thanks to which LGBT people have obtained greater equal rights and whereby their lives have been changed in a significant manner.
The previous laureates from France were:
Dr. Louis-George Tin (2006), LGBT*- and Anti-Racism-activist, founder of the IDAHOT; the play Place des mythos/ Delusion Square, a musical comedy (2007); Bruno Solo, journalist, and actor, producer of TV series "Caméra café" and "Kaamelott" (2008); Paris Foot Gay soccer club (2009); Caroline Mécary, lawyer (2010); Olivier Dussopt, PS (Parti Socialiste), members of the French National Assembly and Franck Riester, UMP (L'Union pour un mouvement populaire), members of the French National Assembly (2011); Véronique Eledut, teacher at Lycée JB Corot in Paris (2012); Le Petit Journal, a daily TV news show hosted by Yann Barthès (2013); "www.projet17mai.com", a collaborative website presenting cartoons against homo-phobia in France (2014), Irène Théry, sociologist, member of the 'Haut Conseil de la Famille' (2015), Amnesty International France (2016), Stéphane Corbin, French composer and singer, and Océane Rosemarie, French singer, humorist, actress and director (2017).
Contact: Joël Deumier, president
Mail: sos@sos-homophobie.org / home: www.sos-homophobie.org
Germany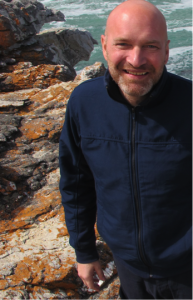 Johannes Kram
Johannes Kram lives in Berlin. The 51-year-old is many things: author, lyricist, blogger and marketing strategist. And he has been many things: manager of the boxer Henry Maske, for example, and of the Eurovision Song Contest participant Guildo Horn ("Guildo loves you!").
Like Guildo, Johannes comes from Trier in the state of Rhineland-Palatinate. The Catholic city's socially spirited nature has clearly influenced young homosexuals to campaign heavily in favour of equality and against the discrimination of LGBTI people. This would at least be one possible explanation for Johannes's extraordinary commitment.
Johannes had already left Trier for Cologne in the 1990s but not without leaving behind various libertarian nightlife institutions on the Mosel – locations that are still legendary today, which is another solid way of improving the world.
In Cologne, he worked as a copywriter, organiser and producer of various music projects. It was after his next move, to Berlin, that he became increasingly artistically active himself. His most well known works include "Page 1", which takes a critical look at the power of the media, and the "Operetta for two gay tenors", which he composed with Malediva's Florian Ludewig.
In Berlin, Johannes settled in the Schöneberg rainbow neighbourhood from the start and it inspired him to write the Nollendorfblog from 2008 onwards. His posts take an incisive look at the latest concerns of the LGBTI world and the blog was nominated for the Grimme Online Award in 2016. Johannes has become a discernible voice of the community. He initiated the "Waldschlösschen Appeal" against homophobia in the media and became a columnist at the media-critical (and above all BILD-critical) watchblog BILDblog, where he scrutinised the role of minorities in reporting.
His book "Ich hab ja nichts gegen Schwule, aber …: Die schrecklich nette Homophobie in der Mitte der Gesellschaft" (I've got nothing against gays, but …: Terribly nice homophobia at the centre of society) was published by Querverlag in March 2018 and it attracted interest way beyond the community itself. In the Berliner Zeitung, Arno Widman wrote: "Kram doesn't only know exactly what he's talking about; he has the enviable task of making it clear to others. The final sentences of his first text are overwhelmingly clever: 'If only other people are homophobic then we don't need to talk about homophobia. So let's make a start: I'm a homophobe – you too, probably!'"
After bringing his book into the world, Johannes had to go to Trier where his theatrical monologue "Marx! Love! Revolution!" was performed to mark Karl Marx's birthday – and it was naturally a great success. As a marketing man, Johannes not only knows how to sell a product but also how to make complex problems clear. He is a translator. He succeeds in making people listen. He can get people talking to each other. And he campaigns for this society to be a better one. Not only here, but also in Trier.
Johannes is incredibly versatile – a man with an extraordinary number of talents, and we wish to recognise the fact that he has used these so consistently over the years to tackle the concerns of LGBTI people. Johannes's interventions have succeeded in carrying the community's concerns into the 21th century, and in making them accessible for a young (and wide) audience.
The previous laureates from Germany were: Volker Beck, member of the German Parliament for the Green Party, and Günter Dworek, activist in the gay and lesbian movement (2006); The "Human Rights and Sexual Identity (MERSI)" group of Amnesty International (2007); Tanja Walther, sports scientist, Philipp Lahm, captain of the German national football team, and Dr. Theo Zwanziger, president of the German football federation DFB (2008); Hans-Wolfram Stein, teacher in Bremen (2009); Wieland Speck and Mabel Aschenneller, producers of the international LGBT-Film Award TEDDY (2010); Lala Süsskind, Chairperson of the Jewish Community of Berlin (2011); Elfi Scho-Antwerpes, Mayoress of Cologne (2012); Maria Sabine Augstein, lawyer and trans*-activist (2013), Cornelius "Corny" Littmann, entrepreneur, entertainer, theater owner (Schmidt Theater) and former President (2002 to 2010) of Hamburg's football club FC St. Pauli (2014), Klaus Wowereit, Governing Mayor of Berlin 2001-2014 (2015), The Protestant Church in Berlin, Brandenburg and Silesian Upper Lusatia (EKBO), the Protestant Church in Hesse and Nassau (EKHN) and the Protestant Church in the Rhineland (2016), Heiko Maas, German Federal Minister of Justice and Consumer Protection (2017).
Contact: Bastian Finke, Director of MANEO;
Mail: bastian.finke@maneo.de oder maneo@maneo.de / home: www.maneo.de
Poland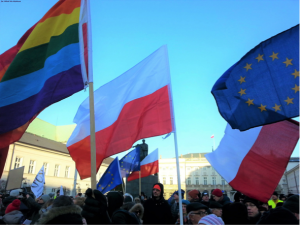 The Polish LGBT+ community
"Lambda Warszawa" Association – the oldest Polish organization operation on behalf and for gays, lesbians, bisexuals and transgender people – which in 2018 decided to award the European Tolerance Prize to the entire Polish LGBT + community, which since 2016 appears in mass, with rainbow flags on demonstrations in defense of the rule of law in Poland.
"Lambda Warszawa" for the first time discontinued the custom of honoring one person, who in a special way, deserved this title for gaining acceptance and counteracting discrimination and violence against LGBT+ people.
We were led to this by the particular situation in which our country found itself today, for three years ruled by a party which is breaking the European principles of respecting the separation of powers, mainly judges independence and observance of minority rights; by a party that does not want to recognize same-sex rights for marriages or partnerships; by a party that does not see the growing hatred of LGBT + people and does not intend to solve this.
The mass appearance of rainbow flags on protests in defense of democracy and the rule of law was initially a source of consternation among many protesters, but our determination to mark our presence caused a significant social change. The rainbow flag – the symbol of the LGBT+ community has become more visible and recognizable, and the LGBT+ community is increasingly seen as part of a broadly understood pro-democracy camp. This is a significant change that has taken place thanks to hundreds of LGBT+ people taking part in protests and demonstrations.
Today, no one is surprised by the fact that the rainbow flag flutters not only during the Marches and Pride Parades, but also wherever Polish civil society defends the Constitution of the Republic of Poland and the basic principles of democracy – the three-divisions of power and the observance of civil liberties.
For the reasons mentioned above, "Lambda Warszawa" decided to award the Tolerance Prize to the entire Polish LGBT + community in 2018.
The Prize will be received by representatives of Polish non-governmental organizations involved in the defense of the Constitution and the rule of law in Poland.
The previous laureates from Poland were: Kazimierz Kutz, Senator in the Polish Senate (2006), Piotr Pacewicz, journalist and civil-rights activist (2007), Marzanna Pogorzelska, teacher (2008), Prof. Zbigniew Hołda, Helsinki Foundation for Human Rights (2009), Izabela Jaruga-Nowacka, posthum, former vice primier of Poland; she died at the age of 59 on 10.04.2010 as a passenger in an air-crash in Smolensk (2010), Adam Bodnar, LL.M., Ph.D., Head of the Department of Legal Affairs at the Helsinki Foundation for Human Rights (2011), Dr. Katarzyna Bojarska, Professor at the Institue of Psychology of the University of Gdansk, and "No Taboo", the Psychosexual Health Centre in Gdansk (2012), Ewa Siedlecka, journalist (2013) and Professor Monika Płatek, Institute of Criminal Law of the University of Warsaw (2014), Ewa Wanat, radio journalist and television personality (2015). Ilona Łepkowska, screenwriter, member of the Polish Film Academy, president of Television Association 'Serial' (2016), Elżbieta Szczęsna, founder of the Association "Akceptacja" (Acceptance) Association of Families and Friends of LGBTs in Poland (2017).
Contact:
Lambda Warszawa (Lambda Warsaw):
Krzysztof Kliszczyński, Mail: kkliszczynski@lambdawarszawa.org;
Northern Ireland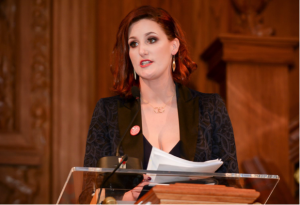 Bronagh Waugh
Bronagh Waugh is a Northern Irish Actress best known for playing the character of Cheryl Brady in the Channel 4 Soap Hollyoaks. Bronagh has also appeared on Doctor Who, Supernatural and The Fall. Bronagh hosted the Tolerantia Awards in Belfast in 2016.
Bronagh has been selected in recognition of her support for the campaign for Equal Marriage in Northern Ireland, her continued support of LGBT civil rights and as an ally to the LGBT community in Northern Ireland. Bronagh has hosted two rally's calling for the introduction of equal marriage in Northern Ireland in which 20,000 people took part. She has campaigned tirelessly and used her platform as an actress to speak out on the inequalities experienced by LGBT people in Northern Ireland.
"It is a human right to be able to marry the person you love. I cannot bear any group of people in our society to be treated differently. To allow one part of the community to get married but not another, because of their sexuality, blows my mind. It doesn't harm anybody. It's about love. There is nothing more pure, bright, honest and gorgeous than loving another human being." – Bronagh Waugh
The Rainbow Project are honoured to announce actress Bronagh Waugh as the Tolerantia Award 2018 Laureate for Northern Ireland 2018. Bronagh has been a staunch ally to the LGBT community in Northern Ireland and continues to campaign for the extension of same sex marriage rights to Northern Ireland. We know that Bronagh will use this platform to ensure full equality for LGBT people in Northern Ireland.
The previous laureates from Northern Ireland were: Máirtín Ó Muilleoir, member of the Northern Ireland Assembly, SF, Lord Mayor of Belfast from 2013-2014 (2015), Marry Mc Aleese, President of the Republic of Ireland [1997-2011] (2016), Chris Hudson, minister for All Soul's Non-Subscribing Presbyterian Church in South Belfast (2017).
Contact: John O'Doherty, Director
Mail: director@rainbow-project.org / home: www.rainbow-project.org
Switzerland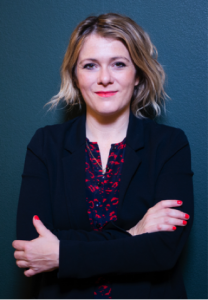 Kathrin Bertschy
Kathrin Bertschy represents the Green Liberal Party of Switzerland as a member of the National Council. As a parliamentarian she is passionate about creating a constitutional state that assigns all citizens the same rights and does not permit discrimination of any kind. In 2013 she filed a parliamentary motion for marriage equality, a bold, spirited move at a time when a popular initiative had given rise to the risk that marriage would be enshrined in the Constitution as a union between a man and a woman. In doing so she created a clear counterweight to conservative forces in the realm of social policy. This political motion acted as a wake-up call for Swiss politics which was finally galvanised into discussing marriage equality, preparing draft legislation and eliminating this unequal treatment.
Kathrin Bertschy works tirelessly to forge societal and political discourse aimed at creating an open and liberal society. She involves the community in all of her socio-political work and this strong coalition has engendered a high level of public support for marriage equality. While we are not yet at a point where same-sex couples are also able to marry, after five years Kathrin remains committed as ever to creating a liberal society where everyone enjoys equal rights.
We honour Kathrin Bertschy for her commitment to equal rights and to the LGBT community. Owing to her resolve and her involvement of all activists, Switzerland has been politically challenged to move with the times and open up marriage to all.
The previous laureates from Switzerland were: Florian Vock und Jazzmin Dian Moore, LGBT*-ASctivists (2016), Alan David Sangines, member of the city council of Zurich since 2010 and is since 2012 vice president and responsible for politics of the Zurich pride festival (2017)
Contact person: René Schegg, Secretary-General
Mail: rene.schegg@pinkcross.ch
Home: www.pinkcross.ch
More information: www.tolerantia-awards.eu