Berlin, Paris, Warsaw, Belfast, Bern, 20.09.2019
For outstanding
commitment
Tolerantia Awards 2019
Laureates of the Tolerantia Awards 2019 are: Collective Intersex Persons and Allies (CIA), an association fighting for the rights of intersex people (France), Bartosz Staszewski, LGBT* aktivist and film maker (Poland), 'Open for Business', a network of businesses supporting global LGBTI* rights (Germany), Lyra McKee, Journalist, posthum (Northern Ireland), and Henry Hohmann, co-founder of Transgender Network (Switzerland).
The Tolerantia Awards, which have been presented annually since 2006, honours the outstanding engagement of people, institutions and groups. Their commitment highlights democratic values such as equal rights, solidarity, social diversity and tolerance as well as action against homophobia, racism and all forms of group-focused enmity in their own countries, in Europe and beyond.
The awarding organisations are members of the European Alliance Against Homophobia (Berlin Alliance), which was founded by organisations from Germany, France and Poland in Berlin in 2005. The Rainbow Project from Northern Ireland joined the alliance in 2014 and Pink Cross from Switzerland became a member in 2016. The organisations work together to combat discrimination and prejudice-motivated violence, advise and support victims of homophobic and trans*phobic violence, and promote social enlightenment and basic democratic values in their own countries and in Europe. The basis of the alliance is the 'Tolerancja Declaration', which has been signed by all members.
Here, we introduce all laureates:
France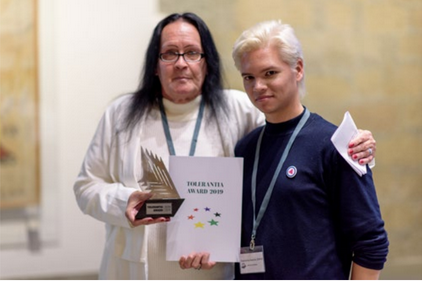 Collective Intersex Persons and Allies (CIA)
SOS homophobie is pleased to announce that they have chosen to present this year's European Tolerantia Award to the Collective Intersex Persons and Allies (CIA) association for its commitment to fighting for the rights of intersex people.
The CIA is the only association run by and for intersex people in France. It was founded on 8th November 2016, International Intersex Solidarity Day, and fights above all for an end to unwanted mutilation, sterilisation and hormonal treatment of intersex persons, against the pathologisation of intersexuality, and for the right to self-determination and the abolishment of gender markers on the civil registry.
The CIA is a very dynamic association that is increasing its activities so that the demands of intersex people will be heard and their visibility increased. It organised the campaign 'It will be your choice: stop genital mutilation' in September 2018. In April this year, it created an educational Facebook group on intersexuation and differences in sexual development. In June, it launched the collective Les Délaissé-e-s des Fiertés (The Forgotten of Pride) and organised an undeclared cortège at the head of Paris Pride with a slogan on stopping the genital mutilation of intersex children. Their 'Stop the mutilation of intersex children' petition addressed to the Minister of Health, Agnès Buzyn, and to the Minister of Justice, Nicole Belloubet, received more than 62,000 signatures by the end of July. And despite all these efforts, their demands have still not been heard: intersex people will again be the 'forgotten' in the upcoming parliamentary debate on the new bioethics law in September.
By presenting the CIA with this award, we at SOS homophobie would like to express our solidarity with their cause and hope that by presenting them with this award their voice and their demands will be heard not only in France but in Europe as well.
The previous laureates from France were:
Dr. Louis-George Tin (2006), LGBT*- and Anti-Racism-activist, founder of the IDAHOT; the play Place des mythos/ Delusion Square, a musical comedy (2007); Bruno Solo, journalist, and actor, producer of TV series "Caméra café" and "Kaamelott" (2008); Paris Foot Gay soccer club (2009); Caroline Mécary, lawyer (2010); Olivier Dussopt, PS (Parti Socialiste), members of the French National Assembly and Franck Riester, UMP (L'Union pour un mouvement populaire), members of the French National Assembly (2011); Véronique Eledut, teacher at Lycée JB Corot in Paris (2012); Le Petit Journal, a daily TV news show hosted by Yann Barthès (2013); "www.projet17mai.com", a collaborative website presenting cartoons against homo-phobia in France (2014), Irène Théry, sociologist, member of the 'Haut Conseil de la Famille' (2015), Amnesty International France (2016), Stéphane Corbin, French composer and singer, and Océane Rosemarie, French singer, humorist, actress and director (2017), Christiane Taubira, former Minister of Justice (2018).
Contact: Jérémy Falédam, president SOS homophobie
Mail: sos@sos-homophobie.org / home: www.sos-homophobie.org
Poland
Bartosz Staszewski
The Lambda Warszawa Association awards the Tolerance Award 2019 to Bartosz Staszewski in recognition of his achievements.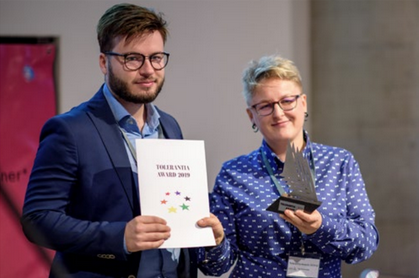 Staszewski (born in Malmö in 1990) is an activist for LGBTQ+ rights in Poland and a director of documentary films. The Tolerance Award is a mark of recognition for his obstinacy and consistency.
He has been working for LGBTQ+ rights in Poland for a long time. In 2018, he was one of the main organisers of the First Equality March in Lublin that was blocked by local government. It was the first time this has happened since 2005 when the Equality Parade in Warsaw was banned. He successfully pursued a court revocation of the local government's decision and led the march in Lublin to success.
A few years before the Equality March in Lublin, he directed the film Paragraph 18, and started the discussion about the legitimate possibilities of legalising same-sex marriages in Poland. He took on the myth of the impossibility of destroying Paragraph 18 of the Polish Constitution by showing the legal possibilities in the legalisation process from the law's point of view. The movie was very widely – and loudly – discussed in Poland.
In August 2019, supported by a group of lawyers, he managed to create a summons that blocked the distribution of homophobic stickers featuring the slogan "LGBT-free zone" by one of Poland's far right newspapers.
He has also started several lawsuits with public figures who were offending LGBTQ+ people in Poland. He has shown that the fight for dignity for our community has to be conducted via an execution of the laws to which we are entitled and by responding to hate. He also started the litigation against Joachim Brudziński, the former Minister of the Internal Affairs and Administration, who suggested that the Polish national flag with an eagle on rainbow-coloured backgrounds demeans Polish national symbols.
The previous laureates from Poland were: Kazimierz Kutz, Senator in the Polish Senate (2006), Piotr Pacewicz, journalist and civil-rights activist (2007), Marzanna Pogorzelska, teacher (2008), Prof. Zbigniew Hołda, Helsinki Foundation for Human Rights (2009), Izabela Jaruga-Nowacka, posthum, former vice primier of Poland; she died at the age of 59 on 10.04.2010 as a passenger in an air-crash in Smolensk (2010), Adam Bodnar, LL.M., Ph.D., Head of the Department of Legal Affairs at the Helsinki Foundation for Human Rights (2011), Dr. Katarzyna Bojarska, Professor at the Institue of Psychology of the University of Gdansk, and "No Taboo", the Psychosexual Health Centre in Gdansk (2012), Ewa Siedlecka, journalist (2013) and Professor Monika Płatek, Institute of Criminal Law of the University of Warsaw (2014), Ewa Wanat, radio journalist and television personality (2015). Ilona Łepkowska, screenwriter, member of the Polish Film Academy, president of Television Association 'Serial' (2016), Elżbieta Szczęsna, founder of the Association "Akceptacja" (Acceptance) Association of Families and Friends of LGBTs in Poland (2017), The Polish LGBT+ community (2018).
Contact:
Lambda Warszawa (Lambda Warsaw):
Krzysztof Kliszczyński, Mail: kkliszczynski@lambdawarszawa.org
Germany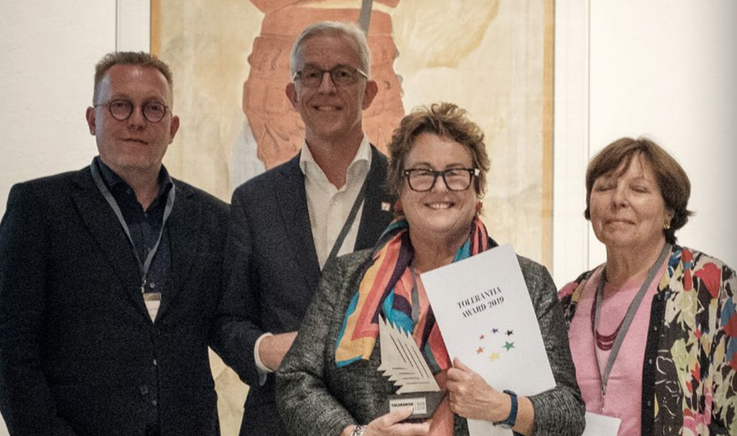 Accepting attitudes towards LGBTI* people have a positive impact on their mental health and development, and mental health is a key prerequisite for quality of life, performance and social participation. However, many people still see coming out at work as a 'career trap' – i.e. in precisely the place where we spend a large part of our lives.
Accepting attitudes towards LGBTI* people have a positive impact on their mental health and development, and mental health is a key prerequisite for quality of life, performance and social participation. However, many people still see coming out at work as a 'career trap' – i.e. in precisely the place where we spend a large part of our lives.
In order to improve this situation and do more for LGBTI* inclusion in society overall, the Open for Business initiative was launched in 2015, supported by the Clinton Global Initiative, in a bid to counter the growing backlash against the LGBTI* equality achieved around the world. In addition to a number of global businesses, renowned LGBTI* organisations such as the US-American Human Rights Campaign were also involved.
Open for Business advances LGBTI* rights: internationally by building consensus among the companies involved that every anti-LGBTI* policy runs counter to the interests of the business community and economic development, and regionally by companies conducting educational and support work within their local business communities. "Open, inclusive and diverse societies are better for business and better for economic growth". The initiative aims to use its global influence to ensure that the rights of LGBTI* communities are not only respected but also enhanced. To this end, it organises meetings around the world and produces reports providing evidence and fact-based arguments. Companies can become key players in the fight against discrimination and exclusion, for example in countries where LGBTI* people are subjected to persecution. Recent examples of this are the many international companies that removed the Sultan of Brunei 's hotels from their supplier lists after his enforcement of the death penalty for same-sex acts, or the numerous international companies that withdrew their investments after the US state of North Carolina passed a law that discriminates against transgender people.
Open for Business supports the implementation of the five Standards of Conduct for Business agreed by the United Nations in 2017 in order to tackle discrimination against LGBTI* people. More than 250 international companies have since adopted these standards, including Deutsche Bank, DHL and Deutsche Telekom in Germany. According to the UN's Human Rights Officer Fabrice Houdart, "What's important is that companies are coherent and they don't end up working in this issue only in countries where it's comfortable because of social acceptance. Human rights are universal and indivisible." It isn't, therefore, only a matter of fighting discrimination at work but also one of making emancipatory efforts in the public discourse – even with regard to changes in the law. This way, companies are able to play a key role in the fight against the discrimination and exclusion of LGBTI* people.
Open for Business has published several important reports since its launch, for example a 2018 study on cities and LGBTI* people that states that "cities that are LGBT+ inclusive are better placed to develop their global competitiveness". According to the report, this is due to "innovative ecosystems" that enable a greater concentration of skills and talent, and a better quality of life. The report also states that LGBTI-inclusive cities may be more likely to become globally integrated hubs for high-value businesses. 
In 2019 there was a report on Taiwan that advocated the opening up of marriage to same-sex couples as well as LGBTI inclusion, and a report on Kenya and the cost of LGBTI* discrimination for the country's economy – a loss of 1.3 billion dollars per year.
Another report called Channels of Influence, again from 2019, focuses mainly on Standard 5 of the UN's Standards of Conduct for Business, namely Act in the Public Sphere. The report offers companies 27 propositions for advocating inclusion in the countries in which they operate. But it is also aimed at civil society organisations and company employees – if everyone plays an active role then LGBTI*-friendly corporate structures can create an optimal talent and career-promoting climate. The report adopts a very clear stance regarding the risk of 'pink washing': companies must back up their words and positioning with consistently credible action.
In order to strengthen the fight against discrimination, several Open for Business companies launched the Partnership for Global LGBTI Equality initiative in Davos on 22nd January 2019. It was supported at the highest level with both the UN High Commissioner for Human Rights and the World Economic Forum (WEF) on board, since discrimination on the basis of sexual orientation and gender identity isn't only a violation of universal human rights but also has long-lasting negative impacts on the performance of individuals, companies and societies. The initiative is aiming to attract another 50 to 100 additional WEF members to its cause by 2020.
We acknowledge the engagement of Open for Business, an international network whichaim is to fight for equality and against discrimination, and to do so using education and information, dialogue and propositions, and research and reports on the global situation of LGBTI* people. Open for Business is known globally for its implementation of the UN's Standards of Conduct for Business to tackle LGBTI* discrimination, not only in the companies of its affiliate members but also in other areas of society its members are connected with through economic relations. Employees at the business locations are called on to provide a visible expression of their own positioning and to network and exchange with civil-society LGBTI* organisations.
We acknowledge this coalition and with it all the dedicated people who commit themselves – including active support from Germany – to make Open for Business an influential force, for example Karl von Rohr, the president of Deutsche Bank, who, with a group of Open for Business members, campaigned for LGBTI* equality in the Vatican in April 2019.
The previous laureates from Germany were: Volker Beck, member of the German Parliament for the Green Party, and Günter Dworek, activist in the gay and lesbian movement (2006); The "Human Rights and Sexual Identity (MERSI)" group of Amnesty International (2007); Tanja Walther, sports scientist, Philipp Lahm, captain of the German national football team, and Dr. Theo Zwanziger, president of the German football federation DFB (2008); Hans-Wolfram Stein, teacher in Bremen (2009); Wieland Speck and Mabel Aschenneller, producers of the international LGBT-Film Award TEDDY (2010); Lala Süsskind, Chairperson of the Jewish Community of Berlin (2011); Elfi Scho-Antwerpes, Mayoress of Cologne (2012); Maria Sabine Augstein, lawyer and trans*-activist (2013), Cornelius "Corny" Littmann, entrepreneur, entertainer, theater owner (Schmidt Theater) and former President (2002 to 2010) of Hamburg's football club FC St. Pauli (2014), Klaus Wowereit, Governing Mayor of Berlin 2001-2014 (2015), The Protestant Church in Berlin, Brandenburg and Silesian Upper Lusatia (EKBO), the Protestant Church in Hesse and Nassau (EKHN) and the Protestant Church in the Rhineland (2016), Heiko Maas, German Federal Minister of Justice and Consumer Protection (2017), Johannes Kram, author, lyricist, blogger and marketing strategist (2018)
Contact: Bastian Finke, Director of MANEO;
Mail: bastian.finke@maneo.de oder maneo@maneo.de / home: www.maneo.de
Northern Ireland
Lyra McKee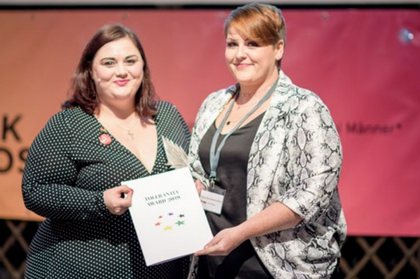 The Tolerantia Laureate for Northern Ireland is Lyra McKee. Lyra was a journalist and writer born in 1990 in Belfast, Northern Ireland. Lyra grew up in North Belfast and attended St. Gemma's High School where she first expressed an interest in journalism. In 2006 she was awarded the Young Journalist Award by Sky News.
While well-known within the LGBT community, it was her 2014 blog post 'Letter to my 14-year old self' which brought her to the attention of the wider community for her painfully honest, touching and humorous reflections on what it was like to grow up gay in Northern Ireland and the ways in which the world changes when we stop hating ourselves for the things which make us different and, instead, focus on the wonderful experiences we can have when we love every part of who we are.
Although she was becoming an increasingly prominent journalist, Lyra remained a fixture at community events, campaigning for LGBT equality and was a keen supporter of The Rainbow Project. Lyra even took part in The Rainbow Project's Strictly Come Dancing fundraising event, dedicating months to practising her routine with her dancing partner Greg.
Lyra was passionate about the untold stories and the forgotten victims of Northern Ireland's troubled past. Her first book to be published, Angels with Blue Faces, investigated the murder of Belfast MP Robert Bradford by the Provisional IRA in 1981. Her second book, which had been scheduled for publication in 2020 was entitled, The Lost Boys, concerned the disappearances of two boys from the Falls Road in West Belfast in 1974.
Lyra was 8 years old when the Good Friday Agreement was signed in 1998 and as a 'child of the ceasefire', hope for the future was an important theme in much of her work at the same time reflecting on how ending the violence did not necessarily lead to peace, particularly in working class parts of Belfast. She wrote about suicide and other mental health struggles of young people from her native North Belfast and was passionate about building relationships across the community divisions of Northern Ireland.
When Lyra fell in love with Sara Canning, a nurse from Derry, Northern Ireland's second city, she moved from Belfast so that they could build their life together there and it was in the Creggan area of Derry were Lyra was murdered on 18th April 2019. She had celebrated her 29th birthday only weeks earlier.
Violence had broken out in Creggan following police searches for dissident weapons in the area and this led to bricks and petrol bombs being thrown at police. Lyra had gone with other journalists to observe from behind the police lines and it was there where she was shot when a masked gunman fired multiple rounds at the police. Although Lyra was taken to hospital, she died of her injuries.
Lyra's murder prompted outpourings of sympathy and anger from across Northern Ireland and across the world. That someone so young, and with such potential, could be so brutally murdered by people who have no support and nothing to offer the people of Northern Ireland deeply affected many people and led to united condemnation from across Northern Ireland's political parties.
In her life Lyra loved and was loved. She was a passionate campaigner for justice and equality and raised up the voices of marginalised and forgotten people. She will always be remembered as one of the most important journalists that Ireland has ever known and will always be held up as a fearless champion of Northern Ireland's LGBT community.
The previous laureates from Northern Ireland were: Máirtín Ó Muilleoir, member of the Northern Ireland Assembly, SF, Lord Mayor of Belfast from 2013-2014 (2015), Marry Mc Aleese, President of the Republic of Ireland 1997-2011, Chris Hudson, minister for All Soul's Non-Subscribing Presbyterian Church in South Belfast (2017), Bronagh Waugh is a Northern Irish Actress (2018).
Contact: John O'Doherty, Director
Mail: director@rainbow-project.org / home: www.rainbow-project.org
Switzerland
Henry Hohmann

You don't have to invent anything to be impressed by Henry Hohmann. His activist career reads like the CV of a trans superhero: Henry co-founded TGNS, Transgender Network Switzerland, in 2010. TGNS is Switzerland's national trans organization and of immeasurable value for the movement. Henry himself was president of TGNS from 2012 to 2018 and made a significant contribution to the association's growing relevance and visibility. Speaking of visibility, Henry also contributed and continues to contribute as an individual. Be it in TV discussions on gender or gender identity, through speeches and workshops, as a consultant or even as a jury member, Henry represents the trans Community in order to demonstrate: We exist, we love to exist, and we deserve equal rights.
Those who participated in one of the first trans conferences, attended the symposium on human rights for trans people or got a job thanks to the project "trans welcome": Henry was involved everywhere in order to "transcend" everything from texts to projects – i.e. to make them trans-inclusive and to ensure that the inclusion of Trans themes is a matter of course.
them is a matter of course.
The superhero CV continues: Shortly after the founding of TGNS, he started and since than organizes the Bern Trans-Inter-regulars table. He is active or a member of – Attention, take a breath – HAB (the Queer Organization in Bern), Pink Cross, Network (Association for gay managers in Switzerland), Dachverband Regenbogenfamilien (Swiss Rainbow Families), QueerAmnesty, Filmfestival Queersicht, Schwubs – schwulen Berner Sänger (Gay Choir Bern) as well as Terre des Femmes. No, I'm not finished yet! He also helped raise the LGBT+ helpline, sat on the jury of the Swiss Diversity Awards and in "Blickpunkt Trans" on the Bern radio station RaBe he regularly reports on political and social developments in the trans community in Switzerland and around the world – a community that he plays a key role in shaping.
In 2018, Henry has retired from TGNS steering committee. Of course, that doesn't mean he stopped his activism! No, he continues behind the scenes: in the areas of politics and advocacy, he fights for those who until a few years ago hardly had a voice. His special gift is to bring different people together, to network with each other and to create something new out of it. And when a trans person needs support, Henry lends his hand.
But to love Henry, you don't need a superhero CV. It doesn't take a long list of engagements to appreciate Henry's society. As a cheerful, understanding, empathetic and humorous contemporary, he is respected by the entire community, and for many of us – by far not only by trans activists*! – he is a role model in his tireless work, his respectful, consistent and cordial manner.
It's never easy to thank a superhero – so we thank you as a fellow human being, an activist, a friend and a contemporary. Your work for the community is immeasurable. Our appreciation as well. Thank you, Henry.
The previous laureates from Switzerland were: Florian Vock und Jazzmin Dian Moore, LGBT*-ASctivists (2016), Alan David Sangines, member of the city council of Zurich since 2010 and is since 2012 vice president and responsible for politics of the Zurich pride festival (2017), Kathrin Bertschi, member of the Green Liberal Party of Switzerland and member of the National Council (2018).
Contact person: Roman Heggli, Secretary-General
Mail: roman.heggli@pinkcross.ch
Home: www.pinkcross.ch
More information: www.tolerantia-awards.eu