Paris, 10.12.2011
Award of the 2011 Tolerantia Prize in Paris
The 6th annual award of European Tolerantia Prize took place this year in Paris. Prize winners and sponsors met on the 10th December at the Town Hall of the 10th Arrondissements of Paris. The alliance of MANEO (Germany), SOS-Homophobie (France), Lambda Warszawa and KPH (Poland) award the prize every year to outstanding people and projects in each of their countries in recognition of exceptional achievement.
The Tolerantia prize has been awarded every year since 2006 by a European alliance of recognised gay and LGBT anti violence projects, which campaign against homophobia and hate crime and for tolerance and diversity in their countries. The founding principles of this "Berlin Alliance Against Homophobia" are contained in the jointly signed "Tolerance Declaration". A concurrent benefit derived from the Alliance is European solidarity and support for anti-violence projects.
Over 100 people took part in the ceremony this year at which the organisations in the Alliance honoured Lala Süsskind, Chair of the Jewish Community of Berlin, Olivier Dussopt, PS (Parti Socialiste), and Franck Riester, UMP (L'Union pour un mouvement populaire), members of the French National Assembly, and Adam Bodnar, LL.M., Ph.D., Head of the Department of Legal Affairs at the Helsinki Foundation for Human Rights.
Deutschland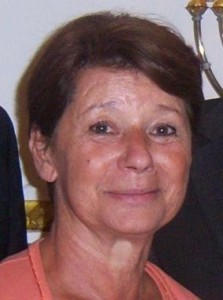 Lala Süsskind, Chairperson of the Berlin Jewish Community
The MANEO jury chose Lala Süsskind, Chairperson of the Berlin Jewish Community, to be the German prize-winner. The 64-year-old mother of two has been Chairperson of the Jewish Community of Berlin since 2008. The Berlin Jewish Community has about 11,000 members. She is a also member of the executive committee of the Central Council of German Jews.
The jury concluded: "Her commitment to fighting homophobia and hate crime has sent strong signals to our society and to the Jewish Community. Homophobia and hate violence are problems for the whole of our society as well as worldwide problems. People are excluded, discriminated and even physically attacked just because of their sexual orientation, and we can see this in Berlin, in Germany as a whole, in Europe, in Israel, in its neighbouring Arab countries, in the whole world in fact. Many countries still have the death penalty for same-sex love. For her commitment to the 'Rainbowbridge'-Project and to equal rights for homosexual people, for her outstanding work against homophobia and hate crime against LGBT* people, and for her commitment to tolerance and diversity in our city and society, we hereby recognise the dedication of Lala Süsskind. And for her many years of emancipatory work, which has always been aimed at combating homophobia and hate crime, we award Lala Süsskind this year's Tolerantia Award.
France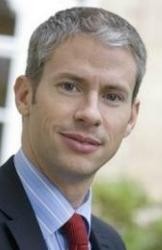 Olivier Dussopt, French Socialist Party MP, and Franck Riester, French MP for the Union for a Popular Movement party
SOS Homophobie decided to give the French Tolerantia Award this year to two MPs: Olivier Dussopt and Franck Riester, both of whom defended the legislative bill to open up the institute of
marriage to the same-sex couples. France is later than many countries in making progress on the matter of equal rights between straight and LGBT people. Same-sex couples are not allowed to marry or have children together. Given the presidential election in 2012 in France, SOS Homophobie has decided to award the 2011 Tolerantia Prize to the MPs Olivier Dussopt and Franck Riester. In June this year, these two MPs, who respectively belong to the left and right wing of the political spectrum, showed their willingness to open up the institute of marriage to same-sex couples when it was discussed in France's National Parliament.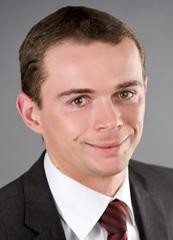 By awarding the two MPs thjs prize, SOS Homophobie intends to remind all French politicians that fighting against discrimination and for equal rights should not be a matter of political colour: it is a national issue and must be supported by everyone, regardless of the political party to which they belong.
Poland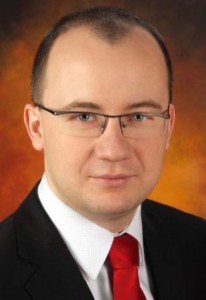 Adam Bodnar, LL.M., Ph.D., head of legal division in the Helsinki Foundation for Human Rights
Adam Bodnar, LL.M., Ph.D., is an assistant professor in the Human Rights Chair of Warsaw University. He is also vice-president of the board of the Helsinki Foundation for Human Rights and the head of its legal division. He is also a senior expert in the FRANET network of the EU Fundamental Rights Agency.
Adam Bodnar has been actively involved in important LGBT litigation cases since 2005, including the first hate-speech case, the ban on Equality Pride in Warsaw (resulting in the Bączkowski and others v. Poland judgment) or access to non-married certificates for the purpose of Polish citizens entering into same-sex partnerships abroad. The Helsinki Foundation for Human Rights is currently supporting cases against the use of homophobic language by police during interventions as well as cases concerning the rights of people living in same-sex partnerships. Adam Bodnar is an author of academic publications on LGBT rights and has participated in conferences on this topic at home and abroad. Since 2007, he has been teaching a special course at Warsaw University on the legal, social and political aspects of protecting LGBT rights in Poland.