Paris, 14.11.2014
Tolerantia Award 2014 received in Paris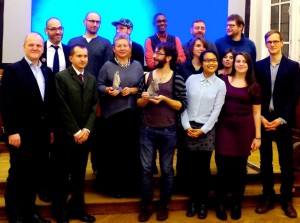 The European Tolerantia Awards are presented as joint prizes by MANEO (Germany), SOS Homophobie (France) and Lambda-Warszawa and Kampania Przeciw Homofobii (Poland). The basis of the alliance is the "Tolerancja Declaration" that has been signed by all participants. Laureates of the Tolerantia-Award 2014 are from Poland: Mrs Professor Monika Płatek, Professor at the Criminology Unit within the Institute of Criminal Law, at Law and Administration Department of the University of Warsaw, from France: the "www.projet17mai.com", a collaborative website presenting cartoons against homophobia in France, and from Germany: Cornelius 'Corny' Littmann, LGBT*-rights activist, entertainer and former president of the German football club FC St. Pauli (Hamburg).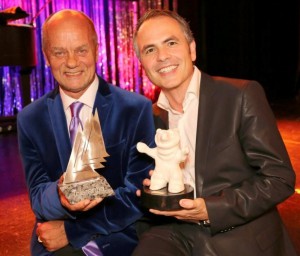 Although the official prize ceremony took place in Paris on 14 November 2014, the German Tolerantia Award had already been presented in Berlin on 20 October during the MANEO Charity Dinner and in the presence of the then Governing Mayor of Berlin Klaus Wowereit and mayor designate Michael Müller. Member of the Presidium of Central Council of Jews in Germany Lala Süsskind, taz journalist and author Martin Reichert, MANEO advisory council member Christa Arnet and MANEO employee Moritz Konradi presented the awards to this year's winners on behalf of the 11-strong German jury.
Poland
Mrs Professor Monika Płatek.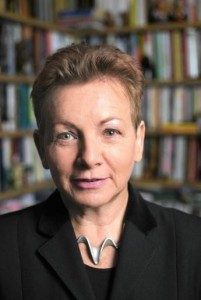 We have a great pleasure to announce that the Polish Tolerance Award (Nagroda Tolerancji) 2014 has been awarded to Professor Monika Płatek.
In her everyday life Monika Płatek is a Professor at the Criminology Unit within the Institute of Criminal Law, at Law and Administration Department of the University of Warsaw. In 2008 she was appointed a associate professor. She was a Postdoctoral Fellow and Scholar in several countries – to name a few Norway, Denmark, Lithuania and United States of America. Her scientific as well as social and political activities concentrate on such disciplines as executive penal law, human rights, women rights, LGBTQ rights, penitentiary law, criminology, penology, social psychology, gender studies, mediation, restorative justice and sociology of law. In 1994 she founded Polish Association of Law Education (Polskie Stowarzyszenie Edukacji Prawnej). She is also a member of the program committee of Panoptykon Foundation. Since 2002 till 2006 she acted as the plenipotentiary agent for the crime victims' rights, on behalf of the Ombudsman. She was as well a law expert for parliament commissions, for the Open Society Institute and for the Council of Europe.
In 2012, in recognition of her activities forwarding democratic transformation in Poland and professional and civil achievements, she received the Knight Cross of the Order of Polonia Restituta (Krzyż Kawalerski Orderu Odrodzenia Polski – a Polish high distinction) from President Bronisław Komorowski. Monika Płatek often comments in the media, on conferences and other occasions the events concerning human right, women rights and LGBTQ rights.
We award this distinction to Monika Płatek in recognition of her courageous and independent stance when speaking for the rights of LGBTQ people. Her substantial and intelligent commentaries regarding these laws resound with force, especially in social media and are widely shared and commented. We also appreciate her attitude of respect towards different viewpoints – she discusses with the opponents with utmost civility.
Germany
Cornelius "Corny" Littmann
In 1980, Corny caused a sensation by smashing a mirror in a public toilet under Spielbudenplatz in St. Pauli. It wasn't any old mirror: Hamburg Police had installed a surveillance camera behind it in order to keep an eye on the "cottage". Corny's campaign showed everyone how homosexuals in Germany were still being discriminated against, persecuted and officially re-corded.
From 1990–1993, Corny Littmann achieved national success with his legendary Schmidt Mit-ternachtshow, which also featured Ernie Reinhardt and Jutta Wübbe (Marlene Jaschke). The Mitternachtsshow ran regularly through several of ARD's "third channels" (programmes with a regional focus). The show sometimes sparked fierce reactions from viewers, for example when a Deutsche AIDS-Hilfe poster of two men engaged in oral sex was shown.
Corny was president of Hamburg's soccer club FC St. Pauli from 2003 to 2010, during which time he repeatedly broached the subject of homosexuality and football, denouncing the lack of support for homosexual football players in society as well as among fans, clubs and fellow players. Corny's and FC St.Pauli's commitment to tolerance and openness towards homo-sexuals and homosexuality is as unparalleled as it is exemplary.
We award him the prize recognizing his courage in highlighting the importance and value of LGBT* rights, social tolerance and diversity in a democracy and his commitment to defend these principles.
France
The "www.projet17mai.com"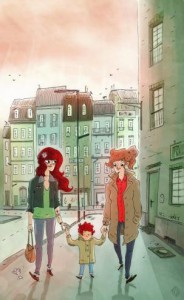 The www.projet17mai.com is a collaborative website which presents cartoons against homophobia in France. It started in 2012 when 2 bloggers (Silver and Pocheb) decided to collect on a web-site cartoons created for the IDAHO (international day against homophobia). The project continues to attract artists, with more than 100 artists contributions. The project has now a printed hard copy ( edited by Jérémy Patinier- Des ailes sur un tracteur) and several exhibitions throughout France about homophobia have been illustrated by these cartoon.
Cartoons and comic -strippers touch a younger public and enable a more sensible approach of homophobia. SOS homophobie also acknowledges the diversity of the contributions (on all types of discriminations), the availability on the blog of all contributions and the continuity of the project over several years.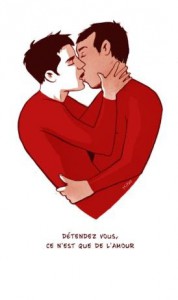 We award the price to the Projet 17 mai, for the courage and the determination
of all the persons involved in the project. With the stories and drawings, the authors were able to express the personnal situation that each LGBT person could face. Projet 17 mai is an answer to the homophobie which spread trough France the past 2 years.