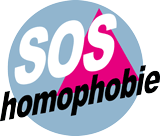 SOS homophobie is a non-profit organisation whose goals are to combat hate-motivated violence and discrimination against LGBT people. It was founded in April 1994 and is run by volunteers from all parts of France. SOS homophobie currently has 1200 members, 300 of which are actively involved as volunteers. The organization is based in Paris and is represented by an elected Board of 21 members.
Our three main fields of action:
Support and advice:
We support and advise victims of LGBT violence and discrimination:

through our anonymous telephone helpline where they can speak out, be listened to and receive information on what avenues they can pursue;
via our website where they can submit their testimony online;
through our legal services by helping lodge complaints and/or bring a civil action before a court;
Prevention:
through awareness raising campaigns and debates in schools, universities, public and private institutions and businesses;
by partaking in or organizing campaigns to raise awareness about LGBT rights.
Advocacy:
by calling on public figures and politicians, institutions and leading organizations to take the necessary measures to stop discrimination of LGBT people.
by publishing our Annual Report, in which we analyse the current situation in France in regard to hate-motivated abuse, harassment and discrimination against LGBT people, based upon the testimonies received on our telephone helpline and website.
The SOS homophobie helpline – phone +33 (0)1- 48 06 42 41 – is available Monday to Friday, from 18h-22h, Saturday from 14h-16h and Sunday from 18h-20h (http://www.sos-homophobie.org/ligne-ecoute ). The chat-helpline is open Thursday from 21h-22h30 and Sunday from 18h-19h30 (http://www.sos-homophobie.org/chat).
Homepage: www.sos-homophobie.org