Berlin, Paris, Warschau, Belfast, Bern, 30.10.2020
For outstanding commitment
TOLERANTIA AWARDS 2021
The European TOLERANTIA AWARDS 2021 are presented as joint prizes by SOS homophobie (France), Lambda-Warszawa (Poland), MANEO (Germany) and The Rainbow Project (Northern Ireland).
Laureates of the TOLERANTIA AWARDS 2020 are: Elise Goldfarb and Julia Layani (France), Katarzyna Augustynek (Poland), Dieter Reiter (Germany) and Les Allamby(Northern Ireland).
The TOLERANTIA AWARDS will be presented this year for the 16th time and under the special conditions of the on-going Corona pandemic. For this reason, the presentation of this year's awards cannot take place as part of an awards ceremony, which was due to take place in Warsaw in October. This year, the prizes will be presented online during a ceremony streamed on 15 th of October, at 18:00 hours (CET).
The Tolerantia Awards, which have been presented annually since 2006, honours the outstanding engagement of people, institutions and groups. Their commitment highlights democratic values such as equal rights, solidarity, social diversity and tolerance as well as action against homophobia, racism and all forms of group-focused enmity in their own countries, in Europe and beyond. Each organisation uses its own jury to select an award winner from their respective country.
The awarding organisations are members of the European Alliance Against Homophobia (Berlin Alliance), which was founded by organisations from Germany, France and Poland in Berlin in 2005. The Rainbow Project from Northern Ireland joined the alliance in 2014. The organisations work together to combat discrimination and prejudice-motivated violence, advise and support victims of homophobic and trans*phobic violence, and promote social enlightenment and basic democratic values in their own countries and in Europe. The basis of the alliance is the 'Tolerancja Declaration', which has been signed by all members.
Here, we introduce all laureates:
France
Elise Goldfarb's and Julia Layani's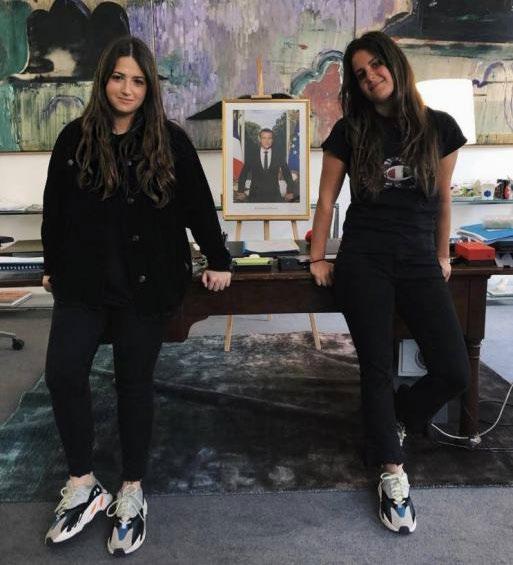 Photo: Elise Goldfarb and Julia Layani
Drawing an accurate depiction of Elise Goldfarb's and Julia Layani's accomplishments is no easy work, considering how far they have gone on the paths they were offered, but also those they carved for themselves.
Friends since high school, Julia and Elise teamed up in 2017 to create "Fraîches" , a social-network-only feminist media aimed at promoting inclusion, fighting labels and cultivating diversity.
Hungering for exploring new horizons, Julia and Elise started their very own consulting firm, while maintaining their involvement towards feminist and LGBTI social struggles.
In 2019, they released the podcast Coming Out. This project provides LGBTI people with the possibility to tell their story, their realization of their sexual orientation or gender identity, their coming out, and so that they could give their insight on current LGBTI-related topics.
Quickly after being released, Coming Out gained an outstanding popularity, and gave a considerable exposure to public figures the LGBTI listeners could identify themselves to. By embodying these topics with famous people, Coming Out also reached and heightened the awareness of non-LGBTI people.
Coming Out managed to display, at the same time, both the struggle met by the LGBTI people, but also the support they might have received on their journey, providing potential allies with invaluable resources.
Amongst the famous French people that went on the podcast, we can mention Marie Papillon, Christophe Beaugrand, Clovis, Hoshi, Fanny Salvat, Bilal Hassani, etc.
Several episodes also had a narrower focus on intersectionality, a sparsely known topic, even inside the LGBTI community.
Lastly, Julia and Elise gave tremendous financial support to charities involved with preventing and fighting LGBTIphobias, as well as those helping victims of such acts.
In that respect, they donated the earnings from selling Coming Out to the musical streaming platform Spotify to the charity Le Refuge , who is involved in raising teenagers' awareness on LGBTIphobia, and who is mostly known for hosting and sheltering young LGBTI adults rejected by their families and facing dire poverty.
In 2021, Julia and Elise have chosen SOS homophobie, which also conducts awareness raising missions, supports LGBTIphobias' victims, and fights for equal rights, to receive the donation of the earnings of the second season of the podcast. For their diverse contribution to raising awareness and to fighting LGBTIphobias, Elise and Julia have proven themselves to be ruthless advocates for feminists and LGBTI struggles. To celebrate their involvement towards those fights, SOS homophobie has decided to designate Elise and Julia as its laureates for the 2021 edition of the Tolerantia Awards, and we are profoundly grateful for the support they have been providing in fighting LGBTIphobias alongside charities.
The previous laureates from France were
Dr. Louis-George Tin (2006), LGBT*- and Anti-Racism-activist, founder of the IDAHOT; the play Place des mythos/ Delusion Square, a musical comedy (2007); Bruno Solo, journalist, and actor, producer of TV series "Caméra café" and "Kaamelott" (2008); Paris Foot Gay soccer club (2009); Caroline Mécary, lawyer (2010); Olivier Dussopt, PS (Parti Socialiste), members of the French National Assembly and ranck Riester, UMP (L'Union pour un mouvement populaire), members of the French National Assembly (2011); Véronique Eledut, teacher at Lycée JB Corot in Paris (2012); Le Petit Journal, a daily TV news show hosted by Yann Barthès (2013); "www.projet17mai.com", a collaborative website presenting cartoons against homo-phobia in France (2014), Irène Théry, sociologist, member of the 'Haut Conseil de la Famille' (2015), Amnesty International France (2016), Stéphane Corbin, French composer and singer, and Océane Rosemarie, French singer, humorist, actress and director (2017), Christiane Taubira, former Minister of Justice (2018), Collective Intersex Persons and Allies – CIA (2019), Jacques Toubon and Giovanna Ricon (2020).
Contact: Jérémy Falédam, president SOS homophobie
Mail: sos [at] sos-homophobie. org / home: www.sos-homophobie.org
---
Poland
Katarzyna Augustynek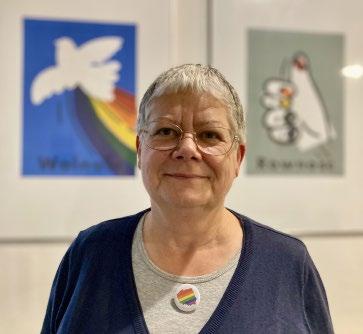 Photo: Katarzyna Augustynek
Katarzyna Augustynek (born 1956) – known as Granny Katy with a rainbow bag. She is a Master of Laws and foreign languages instructor.
She started her activism on December 3rd 2015 with a protest in front of the Constitutional Tribunal seat. The Constitution, as she stresses, has always been the most significant book for her. She defends it, teaches about it and will never stop doing it.
She started her rainbow activism in elementary school. "I had a classmate, who was different than the rest, and because I was different, too, I knew I had to defend him." In late July 2020 she defended those who displayed rainbow flags on major monuments. "I like them, and they like me. They are wonderful young people."
She has been continuously fighting for the rights and dignity of LGBTQIAP people since then. In November 2020 she became a member of Homokomando. Asked about her plans for the future she replies: "I don't plan anything. I act."
The previous laureates from Poland were
Kazimierz Kutz, Senator in the Polish Senate (2006), Piotr Pacewicz, journalist and civil-rights activist (2007), Marzanna Pogorzelska, teacher (2008), Prof. Zbigniew Hołda, Helsinki Foundation for Human Rights (2009), Izabela Jaruga-Nowacka, posthum, former vice primier of Poland; she died at the age of 59 on 10.04.2010 as a passenger in an air-crash in Smolensk (2010), Adam Bodnar, LL.M., Ph.D., Head of the Department of Legal Affairs at the Helsinki Foundation for Human Rights (2011), Dr. Katarzyna Bojarska, Professor at the Institue of Psychology of the University of Gdansk, and "No Taboo", the Psychosexual Health Centre in Gdansk (2012), Ewa Siedlecka, journalist (2013) and Professor Monika Płatek, Institute of Criminal Law of the University of Warsaw (2014), Ewa Wanat, radio journalist and television personality (2015). Ilona Łepkowska, screenwriter, member of the Polish Film Academy, president of Television Association 'Serial' (2016), Elżbieta Szczęsna, founder of the Association "Akceptacja" (Acceptance) Association of Families and Friends of LGBTs in Poland (2017), The Polish LGBT+ community (2018), Bartosz Staszewski (2019), Andrzej Selerowicz, social activist for gays and lesbians (2020).
Contakt: Lambda Warszawa, board-member Krzysztof Kliszczyński,
Mail: kkliszczynski [at] lambdawarszawa. org / Home: www.lambdawarszawa.org
---
Germany
Dieter Reiter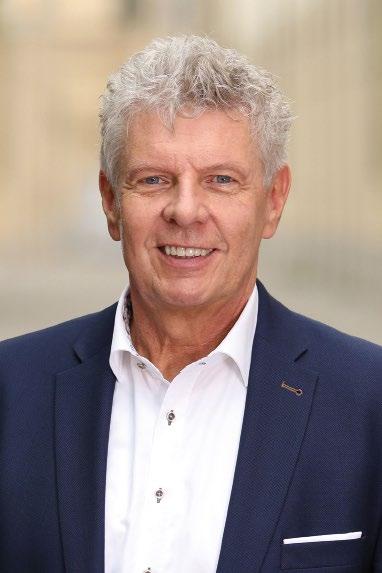 Photo: Dieter Reiter, Lord mayor of Munich
City air is liberating, which is why it always attracts people with a different sexual orientation. As Lord Mayor of the City of Munich, this is not merely something that Dieter Reiter knows: he clearly and deliberately states that a strong LGBTIQ* community is an important pillar in a democratic, peaceful and cosmopolitan urban society.
These words alone are already a form of encouragement and support, but Dieter Reiter also campaigns for social enlightenment And this very specifically: in the past year, the Lord Mayor has declared the concerns of the LGBTIQ* people in Munich to be a top priority and established the LGBTIQ* Equality Coordination Unit as a personal field office under his own direct aegis. This is more than a mere political
gesture, since this step means that the concerns of a minority are actually being taken seriously – also at an everyday level that mostly generates only little attention.
Dieter Reiter does not shy away from adopting a position on the big stage: in June this year, he personally approached the Union of European Football Associations (UEFA) and the German Football Association (DFB) and called on both to make an emphatic and visible commitment to ensuring tolerance and equality, to send out a clear signal, and to enable the illumination of the Allianz Arena in rainbow colours for the European Championship group match between Germany and Hungary on June 23, 2021. Although, as Lord Mayor, he had to accept the football associations' rules, he nonetheless took the opportunity to throw weight of his authority into a debate that attracted international attention and drew very many people into it.
Dieter Reiter positioned himself on the right side of this debate, that is, on the side of the minorities. And in this context he once again himself pointed out that, on June 15, in several amendments to the law, the Hungarian parliament had not only reduced the rights of LGBTIQ* people but also that this resolution violated "the EU Charter of Fundamental Rights, the UN Children's Rights Convention, and the case law of the European Court of Human Rights".
In the course of the dispute over the illumination of the stadium, the Hungarian Prime Minister Viktor Orbán cancelled his trip to Munich. But for everyone else the Lord Mayor's words were an invitation to come to the city, either to live there or to visit it. Because there you can feel free.
The previous laureates from Germany were:
Volker Beck, member of the German Parliament for the Green Party, and Günter Dworek, activist in the gay and lesbian movement (2006); The "Human Rights and Sexual Identity (MERSI)" group of Amnesty International (2007); Tanja Walther, sports scientist, Philipp Lahm, captain of the German national football team, and Dr. Theo Zwanziger, president of the German football federation DFB (2008); Hans-Wolfram Stein, teacher in Bremen (2009); Wieland Speck and Mabel Aschenneller, producers of the international LGBT-Film Award TEDDY (2010); Lala Süsskind, Chairperson of the Jewish Community of Berlin (2011); Elfi Scho-Antwerpes, Mayoress of Cologne (2012); Maria Sabine Augstein, lawyer and trans*-activist (2013), Cornelius "Corny" Littmann, entrepreneur, entertainer, theater owner (Schmidt Theater) and former President (2002 to 2010) of Hamburg's football club FC St. Pauli (2014), Klaus Wowereit, Governing Mayor of Berlin 2001-2014 (2015), The Protestant Church in Berlin, Brandenburg and Silesian Upper Lusatia (EKBO), the Protestant Church in Hesse and Nassau (EKHN) and the Protestant Church in the Rhineland (2016), Heiko Maas, German Federal Minister of Justice and Consumer Protection (2017), Johannes Kram, author, lyricist, blogger and marketing strategist (2018), Open for Business (2019), Dunja Hayali, Journalist (2020)
Contact: Bastian Finke, Director of MANEO
Mail: bastian. finke [at] maneo. de / home: www.maneo.de