The European Tolerantia Awards 2016 are presented as joint prizes by MANEO (Germany), SOS homophobie (France) and Lambda-Warszawa and Kampania Przeciw Homofobii (Poland), The Rainbow Project (Northern Ireland) and Pink Cross (Switzerland).
All organisations work together to fight discrimination and prejudice-motivated violence on the one hand, and to promote social responsibility and basic democratic values on the other, both at home and in Europe. The basis of the alliance is the Tolerancja Declaration that has been signed by all participants. Laureates of the Tolerantia Awards 2016 are:
France
Amnesty International France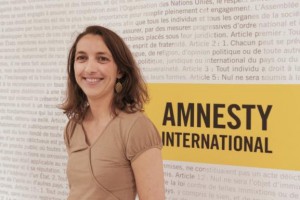 Amnesty international if probably one of the better-known non-governmental movement fighting for human rights. The independent research made by its own researchers is a tool for an independent lobbying and communication. Amnesty international France acts in many ways with its activists in France to promote human rights. For a very long time, Amnesty has been advocating that LGBT rights are part of human rights and hence includes a special focus on LGBT rights in their syllabus. Its former president, Genevieve Garrigos is dedicated in particular to fight against impunity, violence in armed conflicts and discriminations especially based on sexual orientations or gender identity. Its new president, Camille Blanc, Amnesty International activist for 10 years, is committed to fighting against any kind of discrimination and impunity
This year, SOS homophobie wants to raise special awareness on transphobia and the daily struggle for Trans' people, again emphasized by the numerous obstacles to change sex in their registered civil status. This is why we want to highlight Amnesty International's important and diverse work on Trans' people's rights:
SOS homophobie deeply thanks Amnesty International France for their long and continuous involvement on LGBT rights, in France and everywhere in the world. For such an organization to stand on LGBT rights and especially trans' people rights is a precious help. This work may be the best reminder that our fights are all but communitarian: indeed, therein lies a call not only for equality but also for the simple respect to the Universal Declaration of Human Rights
The previous laureates from France were: The previous laureates from France were: Dr. Louis-George Tin (2006); the play Place des mythos (2007); Bruno Solo (2008); Paris Foot Gay soccer club (2009); Caroline Mécary (2010); Olivier Dussopt and Franck Riester (2011); Véronique Eledut (2012); Le Petit Journal, a daily TV news show hosted by Yann Barthès (2013); "www.projet17mai.com", a collaborative website presenting cartoons against homophobia in France (2014), Irène Théry, sociologist, member of the 'Haut Conseil de la Famille' (2015).
Contact person: Michael Bouvard und Gilles Dehais
Mail: sos@sos-homophobie.org ; Home: www.sos-homophobie.org
Germany
The Protestant Church in Berlin, Brandenburg and Silesian Upper Lusatia (EKBO), the Protestant Church in Hesse and Nassau (EKHN) and the Protestant Church in the Rhineland

On the 9th of April 2016, the Protestant Church in Berlin, Brandenburg and Silesian Upper Lusatia (EKBO), the third regional church in the Protestant Church in Germany (EKD), passed a resolution making it possible for same-sex couples to get married. The Protestant Church in Hesse and Nassau (EKHN) as well as the Protestant Church in the Rhineland (EKiR) had already passed similar resolutions in 2013 and the start of 2016 respectively, which means that three from a total of 20 regional churches in the EKD have now taken this step. These regional churches, whose membership totals 6.3 million Protestant Christians, are now offering lesbian and gay couples the opportunity to have their partnerships blessed in a church wedding. As with heterosexual church services, same-sex ceremonies in church must be preceded by a civil ceremony at the registry office. Homosexual and same-sex weddings are thus on an equal footing. Same-sex weddings will also be entered into church registers.
MANEO acknowledges in these decisions the courageous and exemplary path that an overwhelming majority of the community members of three regional churches in Germany has taken in order to end the history of discrimination and unequal treatment of homosexuals in their churches. All three regional churches had already passed resolutions – as have 14 other EKD member churches – to allow church blessings of homosexual couples. We acknowledge the EKHN for being the first regional church to put the weddings of heterosexual and homosexual couples on an equal footing, followed by the EKiR. We also acknowledge the EKBO, which in 1991 made a public admission of its shared responsibility for the persecution of homosexual people under the Third Reich. In 2002, it was one of the first regional churches to introduce blessings of gay and lesbian couples.
The EKHN currently has 1.63 million community members and 1,151 parishes, the EKiR 2.65 million community members and 719 parishes, and the EKBO 1.02 million community members and 1,289 parishes.
The previous laureates from Germany were: Volker Beck, member of the German Parliament for the Green Party, and Günter Dworek, activist in the gay and lesbian movement (2006); The "Human Rights and Sexual Identity (MERSI)" group of Amnesty International (2007); Tanja Walther, sports scientist, Philipp Lahm, captain of the German national football team, and Dr. Theo Zwanziger, president of the German football federation DFB (2008); Hans-Wolfram Stein, teacher in Bremen (2009); Wieland Speck and Mabel Aschenneller, producers of the international LGBT-Film Award TEDDY (2010); Lala Süsskind, Chairperson of the Jewish Community of Berlin (2011); Elfi Scho-Antwerpes, Mayoress of Cologne (2012); Maria Sabine Augstein, lawyer (2013), Cornelius "Corny" Littmann, entrepreneur, entertainer, theater owner (Schmidt Theater) and former President (2002 to 2010) of Hamburg's football club FC St. Pauli (2014), Klaus Wowereit, Governing Mayor of Berlin 2001-2014 (2015).
Contact person: Bastian Finke, director of MANEO,
Mail: bastian.finke@maneo.de or maneo@maneo.de
Home: www.maneo.de
Poland
Ilona Łepkowska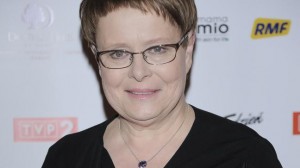 Ms. Ilona Łepkowska is an award winning screenwriter from Poland. She graduated from the famous Łodz Film School and is a member of the Polish Film Academy. Since 2003 Ms. Łepkowska is the president of Television Association 'Serial'.  She has been behind most of the renowned TV series in Poland and because of her outstanding work, she is deservedly called – 'the Queen of Polish TV Series'.
Campaign Against Homophobia (KPH) and Lambda Warszawa decided to award Ms. Łepkowska primarily because of her courageous work in the recent years. Film industry has rather crucial role when it comes to raising awareness and tackling stereotypes in the society. In this regard Ms. Łepkowska contributed a lot to raising acceptance of LGBT people by creating an outstanding and elaborate story of a gay couple in famous Polish drama series – 'Barwy szczęścia'. A touching and educative coming out story of a famous football player has been seen by millions of spectators in Poland and it has been indeed a great contribution in changing attitudes towards LGBT people in the country.
Hence, we decided to praise the work of Ms. Łepkowska and nominate her for the Tolerantia Award 2016.
The previous laureates from Poland were: Kazimierz Kutz (2006), Piotr Pacewicz (2007), Marzanna Pogorzelska (2008), Prof. Zbigniew Hołda (2009), Izabela Jaruga-Nowacka (2010), Adam Bodnar (2011), Katarzyna Bojarska (2012), Ewa Siedlecka (2013) and Professor Monika Płatek, Institute of Criminal Law of the University of Warsaw (2014), Ewa Wanat, radio journalist and television personality (2015).
Contact persons:
Lambda Warszawa (Lambda Warsaw):
Magdalena Wernik, Mail: mwernik@lambdawarszawa.org;
Kampania Przeciw Homofobii (Campaign Against Homophobia):
Giorgi Tabagari, Mail: gtabagari@kph.org.pl
Northern Ireland
Mary McAleese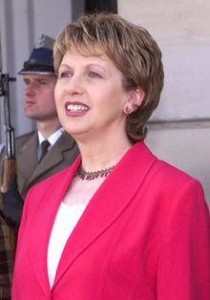 The Northern Ireland Tolerantia Laureate 2016 is Mary McAleese, the 8th President of Ireland. Mary was born in Ardoyne, North Belfast and is a graduate of Queen's University, Belfast and Trinity College, Dublin. During the 1970's she was a legal advisor to and founding member of the Campaign for Homosexual Law Reform and has been the Pro-Vice Chancellor of Queen's University, Belfast. In 1997, Mary was elected to the position of President of Ireland, becoming the second female President of Ireland in the history of the state. During the marriage equality referendum campaign in the Republic of Ireland, Mary was an ardent campaigner for the marriage rights of LGB&T people, informed by her passion for equality and justice as well as her desire to support her son, Justin, who publicly came out as gay during the referendum campaign. Mary is now the Distinguished Professor in Irish Studies at St. Mary's University, Twickenham.
The Rainbow Project has awarded Mary McAleese with its 2016 Tolerania Award because of her commitment to equal treatment and the dignity of LGB&T people for over four decades. Most recently, she was a leading voice during the marriage equality referendum in the Republic of Ireland and spoke passionately of her desire to build a republic where all of her children would be treated and respected as equals. As the mother of a gay son, Mary has understood the pain and isolation experienced by many members of our community and has been a fierce advocate for the unconditional acceptance of LGB&T people. As one of Belfast's most accomplished and influential daughters, The Rainbow Project could think of no more deserving recipient of Northern Ireland's Tolerantia Award than Mary McAleese.
On the announcement of Mary McAleese as the Tolerantia Laureate for Northern Ireland, John O'Doherty, Director of The Rainbow Project said: 'We are delighted to announce that Mary McAleese, the 8th President of Ireland and daughter of Belfast has accepted our nomination for Northern Ireland's 2016 Tolerantia Award. President McAleese has long been a champion of the rights of our community and has been an advocate for peace, democracy and human rights around the world. As this is the first time that the Tolerantia Awards are to be held in Belfast, we are very excited that such an accomplished and well-respected world leader will demonstrate to our partners across Europe, how Belfast is now a modern, European and out-ward looking city with much to offer LGB&T people.'
The previous laureates from Northern Ireland were: Máirtín Ó Muilleoir, member of the Northern Ireland Assembly, SF, Lord Mayor of Belfast from 2013-2014 (2015).
Contact person: Gavin Boyd, Policy and Advocacy Manager
mail: gavin@rainbow-project.org / home: www.rainbow-project.org
Switzerland
Florian Vock and Jazzmin Dian Moore
Florian is 26 years old. He was born in Brugg, Switzerland, and currently lives in Baden while studying sociology at Freiburg University in Germany. He was only 17 when he founded his first LGBT organization. In 2012, he co-founded «Milchbüechli», a magazine for and about young people. The magazine later turned into «Milchjugend», an organization with the aim of creating environments in which young people can feel safe and comfortable. During the past few years, he actively advocated against the ban on blood donations by gay men. He is also involved in politics, fighting for LGBT rights as an MP in the Parliament of the Canton Aargau.
Through his work, Florian Vock has created new opportunities for the young LGBT people in Switzerland. Together with the Milchjugend team, he helps to draw more attention towards the concerns of the younger generation. Through his activism in this and in other fields of politics, his actions which generate a lot of media attention and his long-standing commitment, he has become an important voice of the Swiss youth movement.
Jazzmin Dian Moore was born in Kaiserslautern, Germany, she is 35 years old and lives in Zurich where she works as a hairdresser and make-up artist. In 2008, she became Miss Drag Queen Switzerland. She also works as presenter, singer and charity lady. She launched the Youtube program #iamhuman, portraying and interviewing interesting people from the LGBT community. She co-founded the Pink Nights in order to raise money for charity initiatives by LGBT organizations. Every second week, on Saturday, she presents LGBT-related subjects on gayRadio Zurich, a project that she helped to start.
Jazzmin Dian Moore successfully fights for LGBT rights using the possibilities that social media offer us today. Perfectly versed in Youtube, Snapchat and Facebook, she disseminates her messages about all sorts of issues concerning the contemporary LGBT community. This way, she creates a platform not so much for herself, but for LGBT activists, and this allows her to reach an important target group: today's youth.
Both nominees, Florian Vock and Jazzmin Dian Moore, appeal to a new generation of LGBT militants. Their work and their communication activity reach a broad target group. They both show us the path to a modern and exciting way to engage in political activism in Switzerland. Through their efforts, they support and strengthen the Swiss LGBT community in a most impressive manner.
Contact person: Bastian Baumann, Secretary-General
Mail: bastian.baumann@pinkcross.ch, Tel.: +41- 31- 372 33 00
Home: www.pinkcross.ch