Berlin, den 18.10.2015
MANEO-Charity-Gala 2015
On 12.October 2015, MANEO organised its big Charity Gala "STARS & LIGHTS – for equal rights – against discrimination and violence" at TIPI am Kanzleramt. The event, which attracted 500 guests, celebrated three anniversaries: 25 years of MANEO, 30 years of Mann-O-Meter and 10 years of the European Tolerantia Award.
The VIP list was long and included Dilek Kolat, Senator for Work, Integration and Women in Berlin, on behalf of the Governing Mayor of Berlin Michael Müller, who was in Israel at the time, Marta Kos Marko, Ambassador for the Republic of Slovenia, Ralf Wieland, President of the Berlin House of Representatives, Corine Mauch, Mayor of Zurich, Wolfgang Erichson, Mayor of Heidelberg, Klaus Wowereit, former Governing Mayor of Berlin, Máirtín Ó Muilleoir, former Mayor of Belfast and Member of Northern Ireland's Legislative Assembly (MLA), Reinhard Naumann, District Mayor of Charlottenburg-Wilmersdorf, Angelika Schöttler, District Mayor of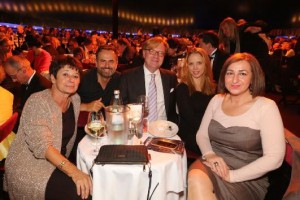 Tempelhof-Schöneberg, Jean-Claude Tribolet, Envoy of the French Embassy, Denise McQuade, First Secretary of the Embassy of the Republic of Ireland, Jeremy Fowler, Deputy Cultural Affairs Officer at the US Embassy, Robin Gustafsson-van der Bent, Culture and Communication Department at the Embassy of the Kingdom of the Netherlands, Klaus Kandt, President of Berlin Police, Dr. Berndt Schmidt, Director of Friedrichstadt-Palast, Berlin,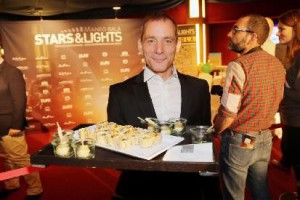 Barbara Schöne, actress and singer, Monika Hansen, stage and screen actress and Grimme Prize winner, Paul Rudolf Freiherr von Schell zu Bauschlott, widower of Hildegard Knef, Pierre Sanoussi-Bliss, actor and director (Der Alte); Lea Woitack, actress (GZSZ), Benjamin Kiss, actor (Unter uns), Daniel Brockhaus, actor (Alles was Zählt), Sarah Knappik, model (Germany's Next Topmodel and Ich bin ein Star – Holt mich hier raus!), Gabby Rinne, singer (girl group Queensberry), Sarah Tkotsch, actress (Tatort and In aller Freundschaft), Kristin Meyer, stage and screen actress, Patrick Winczewski, screen actor and director, Peter Kurth, former Finance Senator in Berlin, Andre Schmitz, former Culture Secretary in Berlin, Thorsten Manske, Vice-president of Hertha BSC, Lala Süsskind, former chairperson of the Jewish Community in Berlin.
Reception the in TIPI foyer
Everyone was invited to a champagne reception – sponsored by the company Nordmann – that started at 6.30pm in the TIPI foyer. Prominent restaurateurs served sparkling wine while culinary director Andreas Kündgen served tasty treats donated by the Hotel Crown Plaza. Rudolf Hampel and Ralph Zachrau, members of the Mann-O-Meter board of directors, welcomed guests and gave a brief description of the association's history and its successful work. Wolfgang Erichson, former Mann-O-Meter board member now Major of Heidelberg, said: "It was always important for Mann-O-Meter to be a point of contact for people with HIV and AIDS, in order to offer help and advice. It then offered information on prevention and further help, for example from doctors, psychologists and other self-help groups. Our particular strength was always in attracting voluntary and full-time staff for our work." A critical note was also struck alongside the celebration. "MANEO has 700 requests for advice and support every year and has kick-started and initiated so much for this city," said Ralph Zachrau. "It must finally be possible to develop its victim support work beyond the current part-time post. The need for such has been clear for years."
Welcoming guests and saying thank you to sponsors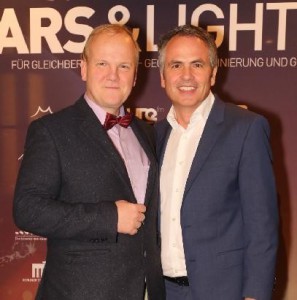 Among the many guests from the worlds of politics, business, sport, culture and the Berlin LGBT scene were representatives from MANEO's partner organisations in France, Poland, Northern Ireland and Israel, as well as members of the Berlin Tolerance Alliance, which is organised by MANEO. Representatives of the Neuköllner Stadtteilmütter (Neighbourhood Mothers) group and the advice centre for Arabic women from the Al Nadi neighbourhood home in Schöneberg, both of which are co-operation partners for MANEO, were also present, as were refugees that have been staying in Berlin and are being looked after by MANEO. Director of the MANEO Charity Gala Bastian Finke gave all these people a special mention in his welcoming address. He expressed particular gratitude for the many volunteers who help MANEO and Mann-O-Meter, saying that the projects wouldn't function without them. "Thank you for using your free time for the benefit of others," he said. "Thank you for your suggestions and ideas – and the fun time with you. An event such as this is a great opportunity to say loudly and clearly: thank you!" He thanks the main gala sponsors – Taxi Berlin, Getränke Nordmann, Greiwe Bestattungen, Jurgen Daenens, Alnatura, KitKatClub, Bruno Gmünder, PureFM, TIPI am Kanzleramt and Friedrichstadt-Palast – as well as all the other sponsors who had donated 250 prizes for the tombola.
Fantastic show programme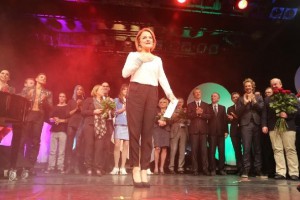 The evening's Stars & Lights comprised mainly artists who entertained the audience, including the host and live reporter on Radio & TV Berlin-Brandenburg (rbb) Britta Elm, who valiantly took us through the evening programme. "MANEO helps victims of discrimination and violence – often in the long-term," she said before the show. "The fact that MANEO can do this work is down to the voluntary support of so many different people. Hats off to them! Their commitment can't be praised enough. I would also like to thank the management for co-ordinating this highly valuable work". Performers included the singer and actor Tim Fischer who performed with Rainer Bielfeldt on piano and Thomas Keller on accordion and saxophone.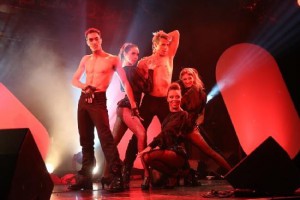 "I despise all forms of violence, which is why I am absolutely behind MANEO," he said. The singer, cabaret artist and actress Maren Kroymann, who sang songs from her In My Sixties programme with Matthias Binner (piano), Ralf Lehmann (guitar), Jürgen Schäfer (bass) and Marcin Lonak (drums), said: "Homophobic violence is the most blatant expression of discrimination there is. Many people in our tolerant society don't even notice that violence against gay, lesbian and transgender people even exists.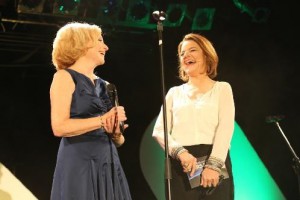 I support MANEO because I love the concept: helping victims of homophobic violence while at the same time carrying out clever and courageous work to prevent acts of violence. The goal is to be able to live self-confidently as a gay, lesbian or transgender person without a second thought."
The German-Dutch entertainer and singer Sven Ratzke, who sang a David Bowie song from his show Starman, accompanied by Charly Zastrau (piano), Haye Jelelma (percussion and drums) and Florian Friedrich (bass), said: "MANEO is important and takes a stance! Fear and stupidity expresses itself in violence. That is the worst thing. Everyone should be able to be himself – always and everywhere!"
Michael Sens entertained the audience with singing and performance, as did the comedy duo Ass-Dur (Dominik Wagner and Benedikt Zeitner), the artists from Base Berlin with Jade Lee Peterson (contortionist) and Remi Martin (comedy), and the Friedrichstadt-Palast ballet ensemble with Jamima Dean, Karolina Schneeberg, Patrick Santos de Oliveira, Robert Makhamud,
Max Hoppe and Miranda Bodenhöfer who wowed the audience with acrobatics, dance and comedy. The message from Base Berlin was: "We support the fight to combat violence committed against gay, lesbian and trans*people. That goes without saying!" In its statement, the Friedrichstadt-Palast said: "The Friedrichstadt-Palast stands for freedom and tolerance. Our colleagues from more than 30 countries reflect the cultural diversity of a capital city and we are delighted to be involved in this very important evening."
Tolerantia Awards 2015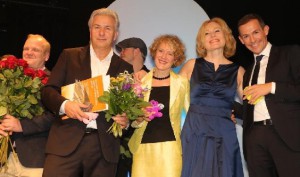 The European Tolerantia Awards were presented at the gala. It is the tenth time that MANEO and its partner organisations in France, Poland and Northern Ireland have presented the awards, which honour commitment to democratic principles, social diversity and tolerance as well as work against homophobia, racism and all forms of group-focused enmity.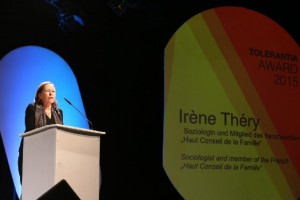 Recipients of the Tolerantia Award 2015 were Ewa Wanat, journalist and editor of the Polish radio station Radio RDC, Irène Théry, sociologist and member of France's Haut Conseil de la Famille, Máirtín O'Muilleoir, Member of Northern Ireland's Legislative Assembly (MLA) and former Mayor of Belfast, and Klaus Wowereit, former Governing Mayor of Berlin. Corine Mauch, Mayor of Zurich, who came to Berlin for the gala and award ceremony, gave the laudatory speech on behalf of the MANEO jury. The actress, cabaret artist and singer Maren Kroymann was presented with the MANEO Award 2015 in September.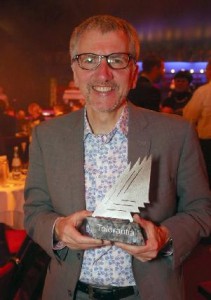 The awards were bestowed amid great applause from the 500 guests at TIPI. Máirtín O'Muilleoir said: "The event was fantastic.
Ewa Wanat said: "We need your continued support, right now in Poland," while Irène Théry said. "It is a great honour to receive this award from you."
Reception given by Minister of State Roth at the Federal Foreign Office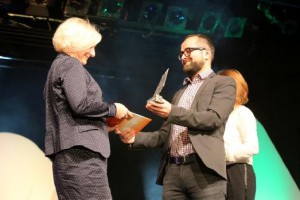 On the afternoon of October 12, Minister of State for Europe Michael Roth received the winners of the European Tolerantia Award 2015 as well as representatives from the anti-violence projects Kampania Przecziw Homofobii (Warsaw, Poland), SOS Homophobie (Paris, France), The Rainbow Project (Belfast, Northern Ireland) and MANEO at the Federal Foreign Office. Ayala Katz, Chairperson of the Nir Katz Center for LGBT Violence in Tel Aviv, Israel, also took part in the meeting
In the subsequent round of talks, participants shared information about victim support work for LGBT* people as well as violence-prevention measures. Another topic was future international co-operation between the projects that stand by and support each other. State Minister Roth congratulated the prize-winners and thanked both them and the representatives of the anti-violence projects for their courageous action for acceptance and against discrimination in and beyond their own countries.
More images from the MANEO Charity Gala
All photos by © B. Dummer.