Berlin, 04.05.2009
European Tolerantia Prizes awarded in Berlin
Berlin. Last Thursday the 2009 European Tolerantia-Prizes were awarded to Germany, France, Poland and Spain. In addition, MANEO awarded its Germany Prize for the first time: The 2009 MANEO Award was presented to Türkiyemspor Berlin e.V. 1978 and the president of the Berlin Chief of Police, Dieter Glietsch.
Among the many well-wishers were presiding mayor of Berlin, Klaus Wowereit, SPD chairman Franz Münterfering and federal chairman of the Alliance 90/The Greens (Bündnis 90/Die Grünen), Claudia Roth.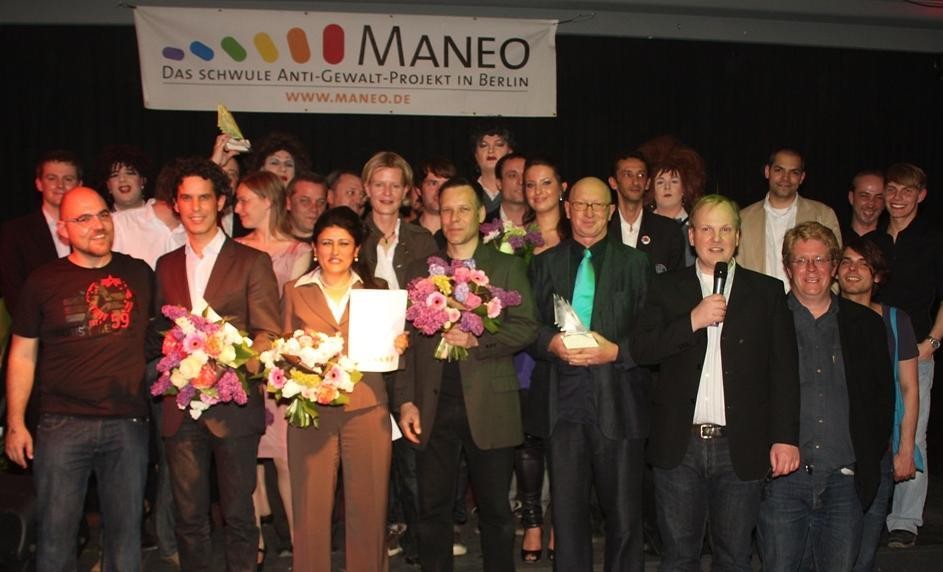 The winners of the Tolerantia-Prizes and MANEO Awards together with artists and staff at Berlin's Berghain nightclub on April 30, 2009. Photo © B. Mannhöfer.
Recognizing commitment to the fight against homophobia and hate crimes
This past Thursday, April 30, 2009, Berlin's gay anti-violence project, MANEO, hosted this year's award celebration for the European Tolerantia-Prize.
The German-French-Polish-Spanish initiative known as the Berlin Alliance Against Homophobia awards the Tolerantia-Prize in recognition outstanding involvement in the fight against homophobia and hate crimes in Europe. The annual awards ceremony is held in one of four metropolises, last year in Warsaw and this year in Berlin. Along with MANEO (Germany), SOS homophobie (France), Lambda Warsaw, KPH (Poland), and since 2008 now COGAM (Spain) have been members of the association of gay and lesbian anti-violence projects in Europe. The cornerstone of this alliance is the "Toleranjca Declaration" signed by all members. Since 2006, the Community Prize, a four-sailed sculpture, has been awarded to distinguished persons and projects from the member countries as an expression of this alliance and in recognition of outstanding achievements.
Among the 300 invited guests were numerous representatives from Paris, Warsaw and Madrid, who travelled specially to Berlin on the occasion of the awards ceremony. These included Krzysztof Kliszczynski, the chairman of Lambda Warsaw and Bart Palik of KPH in Poland, who was accompanied by Adam Bodnar from the ""Helsinki Foundation for Human Rights," as well as Jacques Lizé, chairman of SOS homophobie in Paris and Miguel Angel Fernandez, chairman of COGAM in Madrid, who was accompanied by several staff members and fellow Madrilenian, city council representative Pedro González Zerolo (PS). Finally, the Türkiyemspor Berlin e.V. football club made quite the appearance with the board of directors, head coach and entire football team made.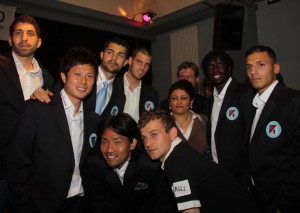 In addition to a great number of members of Berlin's community, there was certainly no shortage of political attention either. Björn Böhning, member of the executive committee of the SPD, greeted those present on behalf of Berlin's mayor Klaus Wowereit, who was unfortunately unable to take part in the festivities personally: "I would like to welcome the international guests who have come to Berlin this evening in order to attend this MANEO benefit event here at Berghain and honor the outstanding commitment to the fight against homophobia and hate crimes with the MANEO Award and the Tolerantia Prize."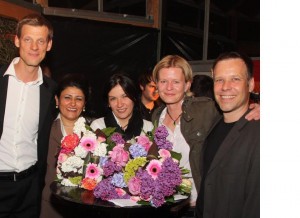 The federal chair of the Greens in parliament, Claudia Roth congratulated the winners: "From a distance, but with all my heart, I would like to congratulate this year's winners of the MANEO Award and the Tolerantia Prize." In their real lives be it in the workplace, football club, in their organizations or parties they have been committed to the fight against homophobia and violence and are setting an example for all of us through their model actions." SPD chairman Franz Münterfering was also among the well-wishers: "The freedom and various abilities of each and every one of them enrich our society. Our democratic way of living together therefore demands tolerance and respect for each other, be it in politics, the family sphere or athletics, and one way or another in football," explained Münterfering. "And it is all the more important that people meet each other eye to eye." Münterfering presented Türkiyemspor Berlin e.V. 1978 the MANEO Award with the utmost sincerity.
The organization's chair Dr. Susam Dündar-Isik had the honor of accepting the MANEO Award on behalf of Türkiyemspor: "We always have to repeat explicitly that gays, lesbians, and bisexuals are part of our society. And no one can deny this with any seriousness. For us, each individual person is a wonder of nature. This diversity of people and each and every one must therefore be protected against discrimination." In her acceptance speech she went on to explain, "The awarding of the MANEO Germany Prize 'Commitment that sends a signal' today is on the one hand to recognize the work that has already been done. On the other hand, the prize serves to incite further discussion and involvement." For years, Türkiyemspor has been committed to the fight against violence and for the acceptance of minorities which applies explicitly for homosexuals. Their football club fully and openly welcomes gays and lesbians as recently explained by the executive board. For years the club has worked together with the gay and lesbian Respect Gaymes.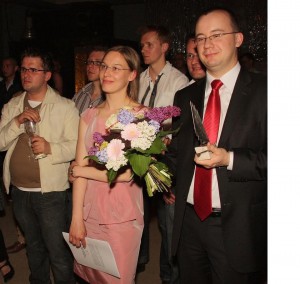 Because Chief of Police Dieter Glietsch was occupied due to the May 1st festivities in Berlin, the spokespersons for same-sex lifestyles at the Berlin Police Department, Uwe Löher and Maria Tischbier accepted the MANEO-award on his Mr. Glietsch's behalf. "The Chief of Police expresses his utmost gratitude for the prize, although he regards the contribution being recognized today as a matter of course." In 2008, the chief of police flew a rainbow flag before the police headquarters, bringing to light numerous homophobic remarks on the part of some of his staff. In response, he made the issue a top priority and held personal discussions with the relevant police officials. "There is no doubt that there is still a great deal to be done in our society to guarantee lesbians and gays a life free of discrimination and violence," explained Glietsch in his acceptance statement.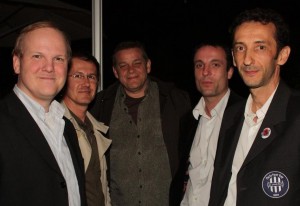 The next highpoint of the evening was the awarding of this year's Tolerantia Prize. Several individuals including Professor Zbigniew Holda were recognized. Lambda Warsaw chair, Krzysztof Kliszczynski, once again honored Professor Holda's outstanding involvement in Poland. Because Holda as unable to travel to Berlin personally for health-related reasons, his daughter Katarzyna Holda was in attendance to accept the prize on his behalf. "It deeply moves me to be this year's recipient of the European Tolerantia Prize. I would like to show my sincerest gratitude for this high distinction in this way," stated Professor Holda in his written acceptance statement. "My father not only accepts this prize personally, but rather in the name of all of his fellow comrades-in-arms at the Helsinki Foundation for Human Rights, who have made their contribution to the fight for universal rights, in particular human rights for gays and lesbians in Poland."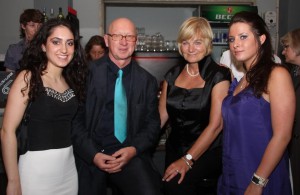 Jacques Lize, chairman of SOS- homophobie in France presented the Tolerantia Prize to executive board members Régis Dugué and Pascal Brethes of the "Paris Foot Gay" sporting club . He honored their work to date and their special status as role models in the French world of sports. Here, both representatives of the sports club reemphasized that their involvement is not only limited to the sport of football, but that they would like to bring about a fundamental change in the attitudes towards homosexuals and homosexuality in the other popular sporting disciplines they offer as well. After all, one should not forget that a great deal of discrimination continues to take place in sports. The potential that gays and lesbian athletes have to offer is not being promoted. The former French national player Vikash Dhorasoo, who is the patron of Paris Foot Gay, will be presented with the prize at a later date in France.
The Tolerantia Prize in Germany was awarded to Hans-Wolfram Stein, the highly committed teacher from Bremen and teacher of democracy, who was accompanied in Berlin by three of his students from the Bremer Schulzentrum Walliser Straße.
MANEO project leader Bastian Finke noted that Mr. Stein is being awarded the prize because not only because he conducts discussions with pupils, but rather because he has gotten the entire school involved in a process that has ultimately contributed to altering attitudes regarding homosexuals and homosexuality at his school. Hans-Wolfram Stein expressed his thanks for the European prize, which he would not only like to accept for himself but for all of his pupils who got involved in the project with him as well.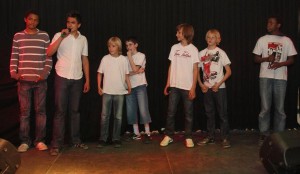 Miguel-Angel Fernandez of COGAM presented the Tolerantia Prize to Professor Juan Fernando López Aguilar of Spain, who was unable to attend due to a scheduling conflict. Pedro González Zerolo, who is member of the Madrid's City Council, accepted the award on Aguilar's behalf. Professor Juan Fernando López Aguilar was honored for his life's work: "With his help, success was achieved in changing the Spanish Civil Code such that marriage in Spain is no longer limited to a woman and a man, but rather two adults – regardless of whether they are two women, two men, a woman and a man, transsexuals or transgender individuals." In his acceptance speech, Pedro González emphasized that this came about against the background of a socialist government. He is delighted that so much has been done recently for gays and lesbians in Berlin under the Social Democrat leadership of its mayor. It has been a great honor for him to accept the Tolerantia Prize on behalf of his friend Professor Juan Fernando López Aguilar and travel back to Madrid with the prize in hand.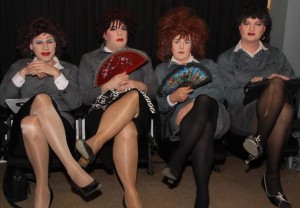 The award ceremony party was celebrated with an exclusive music program that delighted all of the guests. Teenagers between the ages of 10 and 14 from Mossestift presented a song they wrote entitled "Homo oder Hetero – ist das denn wichtig" (Homo or hetero: does it matter?). Seventeen-year-old Flo, who was recently honored in the "Rap'n Respect" competition held by "Schule ohne Rassismus" (Schools Without Racism) spoke out in his rap about exclusion and violence; the "Staatsministerium für Tuntensicherheit in ganz Europa UND in Ostdeutschland" (State Department for Homoland-Security in all of Europe AND in East Germany) sung the "fag rap" and entertained the audience with a completely new style, the "transistor rap," and Nico Hartung captured the motto of the MANEO benefit series with his own produced song "Kiss Kiss Berlin."
MANEO Project Leader Bastian Finke, who led the evening, thanked the party organizers in Berlin for the outstanding support that MANEO received this year for his MANEO benefit series. A total of about € 1,500 was collected for the MANEO anti-violence project with numerous events held under the motto "Kiss Kiss Berlin – Powered by People for Tolerance." In addition, many supporters and partners made it possible to hold the award event in Berlin's Berghain nightclub, recently announced as world's best club, on such short notice.
Finke: "Four weeks after the official end of the MANEO Tolerance Campaign, this struck yet another excellent final chord: MANEO is mobilizing people—and in a way that is lasting! The broad resonance during the first few months alone of a year that is still quite young is letting us peer optimistically into the future. We're already being approached by people saying, 'This is great! Can I take part in 2010?' I simply respond, 'Of course! Next year will be called Kiss Kiss Berlin too!'"