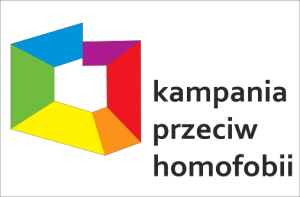 The Campaign Against Homophobia (KPH)
The Campaign Against Homophobia (KPH) is a nationwide public-benefit nongovernmental organization with non-profit status working for the equal rights of lesbian, gay, bisexual and transgender people.
KPH was established in 2001 and it mainly specialised in organising large social awareness and educational campaigns aiming at integrating LGBT people into society.
Throughout the past years, KPH has been training and educating students, teachers, social workers, lawyers, police, parents and others, covering anti discrimination issues within schools. Actively we cooperate with Polish Teachers Union and education institutions.
KPH offers psychological and legal help to victims of homophobia and is very active in lobbying for equal rights on the national level as well as internationally.
KPH is based in Warsaw There are around 20 partner organisations cooperating with KPH.Currently, main sources of financing are programmes of the European Union, Batory Foundation, 1% of the output tax and revenues from private donors. The Board of KPH consists of currently 5 board members. There are 15 full-time employees (only on contractual basis) in different projects and 20 volunteers working for the organisation. Our organisation operates from 9 am to 18:00 pm.
Homepage: http://kph.org.pl (Polish) http://world.kph.org.pl (English)
---

Lambda Warszawa Lambda Warszawa is the oldest public interest organisation founded in October 1997 by activists of Rainbow Centre. The organisation runs an information and support centre for LGBT persons in Warsaw, as well as provides a helpline and anonymous internet counselling (Monday till Friday, 18:00h-21:00h). Lambda Warszawa also provides legal, medical, sexual and psychological counselling to people in need. In addition to that, Lambda Warszawa monitors LGBT equality relating to persons living in Poland and is collecting data on discrimination on the grounds of sexual orientation. Working in partnership with public institutions (the police, legal institutions, the labour police) Lambda Warszawa tries to improve LGBT equality within the scope of their domains of activity. Lambda also runs the HIV/AIDS prevention programme "Safer Relationships" and organises anti-discrimination and human rights awareness events and projects: "Zywa Biblioteka" (The Living Library), workshops and training sessions on discrimination issues for local NGOs, public authorities, the police and social workers.  For now there are 6 full-time staff (only on contractual basis) in different projects and almost 100 volunteers. Activities of Lambda Warszawa are financially supported by Batory Foundation, EEA funds and City of Warsaw. As well as through 1% of the output tax.
Homepage: http://lambdawarszawa.org